Melanie Cooper meets a group of Aucklanders dedicated to bringing the past to life.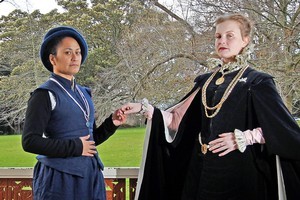 Swathes of fabric and delicate, slipper-like shoes are a poor match for the squelch of Auckland Domain's mid-winter mud. Willemyne van Nymegen, a Dutch lass steeped in the protocols of the late 16th century and betrothed to a chap who spends all his time in Venice, seems undeterred.
"Actually it's never the right weather for these clothes, in summer they're far too hot. They're not at all practical but I love them."
Willemyne from the Netherlands is in fact Michaela de Bruce from Green Bay. She is posing for a photo in her ground-length black velvet gown and uncomfortable-looking neck ruff opposite Will de Wilde, another 16th century alias. Dated garb and a fictional persona are prerequisites for her membership to the Society for Creative Anachronism.
"I'm single in real life and my persona is as good as single. I think as far as the SCA is concerned I've had a fiance for five years who seems to like Venice, which is of course well known for its prostitutes. The SCA game is hilarious like that, for me it's a good excuse for different outfits that don't otherwise fit where I come from - he sends them to me."
The SCA bio describes the group as "an international group dedicated to the research and recreation of pre-1600 medieval western Europe". For newcomers, important points to note are that medieval dress and manners are expected for all major SCA events. The club structure is geared to help though - a "chatelaine" shows new people the ropes and a "gold key" officer has medieval garb that people can borrow.
By day, current club president Angela Wells helps shift holiday bookings for Air New Zealand but in the SCA she oversees council meetings and events and appears alternately as Lady Anna de Wilde or her villainous brother Will.
Two characters basically allow for more costume choices, which is one of the main appeals for Wells. She became involved in the SCA after meeting de Bruce at the massive Armageddon Expo, an annual pilgrimage for gamers, sci-fi fans, LARPers (live action role play), other medieval societies and people who like dressing up. "We met at the cosplay contest in 2006 and Michaela said if you like dressing up you may be interested in this living history thing I'm involved with."
De Bruce has been involved in costume for 20 years and says the love of costume is also what drew her to the SCA. She teaches other members of the group how to cut patterns and make the most of their fabrics with clever cuts. Other weekly classes on offer include fencing, sewing and dancing. Learning the rituals and crafts of the time and making their own garb is part and parcel for most SCA members.
Since joining in 2007 Wells has steadily become more involved and now teaches dance classes for interested SCA members every Thursday, referring to original texts for accuracy.
"The Renaissance 15th and 16th century dancing is what really pulled me in; I really enjoyed that part of it. That and wearing pretty dresses."
In SCA, which has around 40,000 members globally and 200 in New Zealand, Wells says the ideal is that personas and the protocols that are observed are authentic - which is where the research comes in.
Wells recently spent six months on a detailed reconstruction of a 16th century Italian dance at the behest of the local King and Queen. (She took advice from Mistress Matilde, an SCA member who lectures in early period music at Canberra University.) Another member handmade 1000 beads.
SCA members can earn awards and titles for service to arts and science, or chivalry. Wells holds a Golden Tear after her efforts in translating Italian dance and de Bruce holds a Golden Lily, making her a "peer of the realm".
The titles and baronies are another feature of the game - Wells and de Bruce belong to the Barony of Ildhafn (which takes in Auckland members) and are part of the much larger Kingdom of Lochac which spans Australia and New Zealand. Major events include Twelfth Night celebrations and St Catherine's Faire at the end of each year.
"They are private events but people are welcome to get in touch and come along, they just need to dress appropriately and refer to each other properly as m'lord and m'lady and bow and curtsey; , they need to follow the customs of the day."
A medieval taster
Today at Auckland Museum the Society for Creative Anachronism is recreating a slice of life on the Thames River in the 16th century. Between 11am and 2pm, members of the Barony of Ildhafn will be doing demonstrations of rapier fighting, tablet weaving, braiding, book binding, shoe making, tailoring and dressing an Elizabethan lady, wearing armour, Renaissance dancing, and provide special nibbles and tonics including "a drink to make a lady slender".
For information on membership visit the site above.