Find more restaurant reviews with our Google map
Address: 315b Queen Street
Phone: (09) 379 5656
Website: sakebars.co.nz
Cuisine: Japanese
Rating: 8/10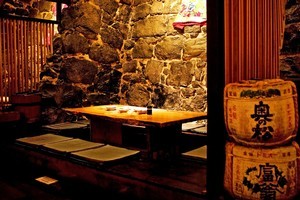 Many of the big cities in Japan have a thriving maze of underground eateries that are clustered around the train stations, catering for the throngs of hungry commuters. They are small, hole-in-the-wall type venues where workers grab a quick snack to see them through the journey home.
Well, Auckland has its own hidden gems below Queen St. A few doors up from the Town Hall you'll find a discreet slatted door. Slide this open, descend the steep stairs, duck through the traditional Japanese noren (curtain), and you'll find yourself in Kura Sake Bar.
Don't be put off by the name - Kura Sake Bar is much more than a bar. It occupies what was once a grain storage facility in historic Auckland and it's a fascinating space for a restaurant. The enormous exposed stone wall that holds up Queen St, so solid and rough, is contrasted with delicate silk kimonos that are draped across the dark stone. An open fire blazes its way through the winter chill and low lighting increases the sense of cosiness and intimacy.
We arrive without a booking but it suits me to sit at the bar anyway as from this vantage I can see the chefs meticulously prepping the plates of sashimi and sushi - it's poetry in motion.
I'm pleased to announce that Kura deviates in authenticity from the informal eating houses you find in Japan in that their menu incorporates a range of different cooking styles whereas most Japanese eateries tend to specialise in one particular type only, be it yakitori, tempura, ramen noodles, etc. The menu at Kura includes a good variety with tempura, sushi, sashimi, don buri, noodles and grilled dishes.
When I'm a first-time diner at a restaurant I like to take my time with ordering and look around at what other tables are enjoying. I've been known to deploy the casual "walk by" technique to see what other diners are eating to inform my choices. If, on the other hand, I'm more of a regular, as is the case with Kura, I try and make a point of ordering something new from the menu in addition to some of my favourites.
The first of my standbys are vegetables. Simplicity is one of the great qualities of Japanese cuisine and it's demonstrated in the spinach and broccoli. They are blanched and served cold, with a magnificent nutty sesame dressing adorning both and, in the case of the broccoli, mayonnaise joining the party of flavours. Eating these, we could almost feel the vitamins surging through our bodies so much so, that we thought we'd better balance it out with something less healthy - chicken karaage.
This pile of fried chicken is a must. Bite-sized morsels of succulent chicken thigh meat are marinated in dark soy sauce then deep fried and served with shredded cabbage, which aids the digestion of fat apparently, and more of that tangy Japanese mayonnaise. Simple and delicious.
A plate of freshly prepared sashimi snapper, tuna and salmon delighted us with its freshness and the wasabi was a nostril-clearing extravaganza. Staying with the omega factor we transitioned to the first of our hot dishes - teriyaki salmon. The thick fillet of salmon, skin on, was seasoned with a light dash of sweet teriyaki sauce, and cooked to perfection - lightly crisp on the outside and near raw in the centre. It melted in our mouths.
Proving that Kura is not tied to tradition and readily responds to popular demand, I noticed they'd added a pork belly to the menu and this was our second hot dish. It's not for the faint-hearted but for pork lovers, it's worth a try. Lifting the lid on the clay pot, you'll be rewarded with a waft of steam, laced with the heady aromas of ginger, sesame and mirin (sweet rice wine) given off by the broth. The pork is soft and well-braised but a warning - you really have to love fat to enjoy this dish. Served with rice and a pile of steamed greens it's a hearty dish for winter.
All this was served by wait staff who have always reminded me of a team of Japanese snowboarders - they're all young, energetic and they move fast. What more could you want?
We washed it all down with Japanese plum wine - on ice for me, mixed with soda for my friend - and at 14 per cent it's a warming brew for a winter's evening.
For me Kura Sake Bar is a great meeting and eating place and as much a part of this city as the Town Hall that sits above it.
From the menu: edamame beans $6, spinach $6.50, broccoli with sesame dressing $8, crispy spring roll $6.50, chicken karaage $13, sashimi selection $18, teriyaki salmon fillet $10, pork belly $16.
Drinks: Fully licensed including Japanese beer, sake, plum wines.