Check out what's new and nifty.
1. Senna brow kit $49.95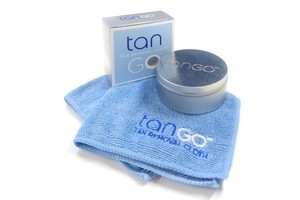 The original stencil brow kit from America has arrived in New Zealand and attracted so much interest at Beauty Expo that its distributor ran out of stock on the first day of the two-day show. The kit, developed by Los Angeles makeup artist Eugenia Watson who has worked with celebrity clients for three decades, features three shades of brow powder that can be custom-mixed. Each kit is sold with one of four brow stencils, matched from classic to extra full to suit the customer's best brow shape. This allows the ideal outline to be easily achieved. The only thing lacking is a brow setting gel, but this is sold separately as part of the Senna makeup range, now coming into beauty salons. For your nearest stockist, ph (03) 547 3601.
2. Body Shop Body Butter Duo $36
The Body Shop has introduced a cunningly divided container for some of its body butters, with two different formulations in one jar. On one side there is a richer moisturiser for dry skin bits such as elbows and shins and on the other a lighter option for less parched areas. We show Sweet Pea, but other mixes are Floral Acai, Vanilla and Macadamia.
3. Elizabeth Arden's Makeup Blender $29
Use the spongy foam-tip to smoothly apply foundation; it's a bit like a brush, but even easier to wield, especially around the nose, plus it's quicker to wash and dry. The blender pairs well with Arden's lushly creamy Ceramide Ultra Lift and Firm Makeup ($79).
4. Tan Go Tan Removal Cloth
Tan Go is a spray and tan removal cloth, a simple idea but rather clever, and, say its Australian distributors, a world first. The idea is it simply wipes away those overdone areas, without the harshness of exfoliation and more easily than using your flannel. It was thought up by a West Australian spray tan technician and the micro-fibre wipe comes in a little tin, so you can rinse and reuse easily. For New Zealand distributors phone Callie on 021 348 084.
5. Harmony Ultra Sonic Facial Cleanser $149
Spa at home with this battery powered brush for a deep cleanse in just a minute a day. A rotating brush gently works away at impurities and helps with daily exfoliation, clearing the way for easier skincare absorption.