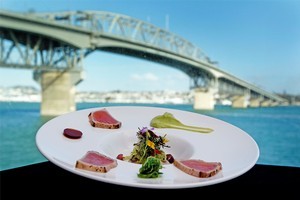 Even when it's dark and the view largely disappears, there is something particularly appealing about dining next to the water, watching the light catch the waves. There are few places where this pleasure is more available than The Wharf, which sits out in the Waitemata harbour, tucked below the bridge at Northcote.
It is one of the city's best-known venues, not always for the right reasons, as a couple of spectacular failures there loom large in the public consciousness. However, as an entertaining menu note points out, these were actually uncharacteristic blips in what was largely a long chronicle of successful operation.
For the last four years it has been operated primarily as a function venue after a total and much-needed rebuild under the direction of Stu and Semele Robertson. For a short season it opens its dining room once a week for degustation dinners designed by executive chef Justin Rimmer.
It had been a long time since we had been there and the makeover was something of an eye-opener.
The windows are even more panoramic and the décor is whip-smart while remaining comfortable. From the moment of arrival, when you are greeted effusively, it is obvious they are setting out to make this experience something a little special.
After a glass of bubbles and sitting on comfortable settees reading the history of the place, including some unbelievable menus from its former lives (crayfish farcie at $6 anyone?), we were conducted to our table.
Would the food match the superb setting? Happily, for the most part, the answer was yes. It is a bit of a stretch to advertise it at six courses when the first is a bread roll but there are plenty of pleasures in store.
The amuse-bouche was a tiny cup of crayfish bisque, rich and creamy with a hint of vanilla and brandy. This was followed by charred yellowfin tuna, beautifully plated with pickled cherries, wasabi, avocado and a tremendous soy gel. If this is the standard, bring it on, we thought and they did, with a sweet, rich confit of pork belly whose accompaniments included a blue cheese polenta, watercress and a little apple purée.
Time for a light relief with a mango sorbet refreshed with a splash of bubbles and on to the main course. Unusually for a degustation menu this provided a choice. I went for the wild venison loin from the Raukumara ranges near East Cape, which was as full of flavour as I had hoped and more extraordinarily tender than I expected. This came with beetroot endive, fava beans and a dab of foie gras butter and yams. With this side dish consisting of roast jerusalem artichokes, garlic and snow peas this was a rather more sweet root vegetable than I would have liked and a sharper contrast might have worked better.
Our other main was local John Dory with pancetta, asparagus and artichoke purée, perfectly cooked as we had come to anticipate and in generous portions for such a menu.
The rich dessert of chocolate and muscatel bread and butter pudding was a fitting conclusion, tricked out with a hazelnut meringue and a little candyfloss wig. We had gone for the wine match option and they worked well, including a couple that I did not expect would.
But if the food and wine was good, and it was, the service was even better, well schooled, alert and attentive without being intrusive and contributing significantly to a distinctive evening.
Rating out of 10
Food: 8
Service: 8
Value: 7
Ambience: 8
Our meal: $99 per person for the degustation menu and $55 per person for the wine match.
Wine list: In order of courses, Corbans Private Bin Gewurtztraminer 2007, Benson Black chardonnay 2009, Pete's Shed pinot noir, Wyndham Estate Bin 55 shiraz 2008, Villa Maria Southern Clays sauvignon blanc 2009 and Vin Alto Vin Santo.
Verdict: A special place for a special occasion.