Find more restaurant reviews with our Google map
Herald on Sunday rating: 2.5/5
Address: 460 New North Road
Phone: (09) 846 9997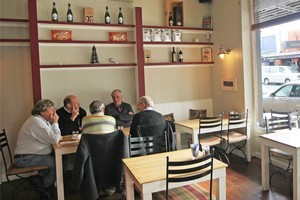 Kingsland will presumably boom during the Rugby World Cup as punters stop for pre- and post-match refreshments. But on the strength of its performance on a recent midweek evening, Page's is going to have to lift its game if it wants to get a piece of the action.
It occupies what used to be Deve, in the triangular premises on the corner of the lane running down to the railway station. It was once a general store called Page's, and a large photograph on one wall, replicated as a painting on another, shows it in its heyday. ("We have refrigerated butter," it boasted.)
I had noticed the change of ownership when I ate next door at the cheerful Arthur Avenue a few weeks ago and promised to review it. In hindsight, I rather wish I had not.
The look was bare: dry goods are stacked on shelves on the wall, but so sparsely that it gives the impression of a grocery in a wartime blockade, and the temperature was colder than charity, which may explain why one of the two couples who entered while we were there couldn't get out quickly enough.
I kept my overcoat on as I struggled to read the menu in the stygian gloom.
Our waiter had a disarming habit of materialising silently at my elbow and giving me a hell of a fright. But since he was there I thought I would put him to work, so I asked him about a menu item called "Mozzarella in Carrozza". He had no idea what it was, he said, because the menu is brand new. Call me old-fashioned, but I think a restaurateur should ensure that table staff have tasted everything on the menu. At the very least they should have a vague idea of what each dish is, especially on a new menu. Such lack of curiosity - no one knew the date of the photo on the wall from which the restaurant derives its identity - is deeply dispiriting.
Fortified by internet research, I can now tell the waiter that the name (which means "cheese on a carriage") refers to a Neapolitan antipasto that is essentially a shallow-fried cheese toastie. I can also tell the chef that the way the Neapolitans do it, it is not a solid ball of cheese, corpse-cold in the middle and covered with a bland and soggy batter, which is what the Professor was served. I can even send in the recipe, if that would help.
While I was about it, I could chuck in a recipe for steak tartare, which I ordered and which apparently also defeats the kitchen staff. What landed was a plate on which (very good) chopped beef (topped with an egg yolk) was accompanied by all the other ingredients in a tidy line. (This included the grated dark chocolate which, if I'm not mistaken, the waiter was sent to buy from the dairy across the road).
Fancy-pants chefs call this deconstruction, but it leaves me cold. When I'm paying for dinner, I don't expect to be provided with the ingredients and asked to make it myself.
Of the duck "duet" - leg and breast, which differed only in that the leg had a bone in it - the nicest thing I can say is that the helping was generous. There was certainly no trace of imagination or flair in its preparation or presentation. The Professor's lamb rump was delicious but the accompaniments of wilted spinach (yawn) and Portobello mushrooms (zzz) oozed triteness.
Our shared dessert consisted of a bread-and-butter pudding and a brioche of such surpassing stodginess that we spent some time debating which was which.
All in all, it made me long for Deve. The Pommy fans will probably feel right at home here, but heaven help them if the French turn up.
Need to know
Value: $$
Look: Bare
Feel: Cold
Flair: Little
$ = $20-$40; $$ = $40-60; $$$ = More than $60
(Price guide reflects the cost of three courses for one person without drinks.)