Kelly Young finds the perfect dish for brunch.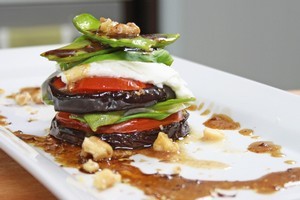 Serves 4
500g snow peas, trimmed
Olivado Avocado Oil
sea salt and freshly ground black pepper
2 medium-large eggplants
3-4 large beefsteak tomatoes
handful basil leaves
2-3 Tbsp aged balsamic vinegar
2 cloves NZ garlic, peeled and crushed
buffalo mozzarella
walnuts
½ cup Olivado Omega Plus Oil
Preheat oven to 210ºC.
1. Whisk together Omega Plus Oil, aged balsamic, garlic, sea salt and fresh pepper to make a dressing and keep to the side.
2. Slice eggplant into rounds and place them for 15-20mins to dry out any excess moisture.
3. Put snow peas in a flat dish, drizzle with avocado oil and season with sea salt and pepper. Toss gently then place into the preheated oven to lightly caramelise.
4. In a separate baking dish, lightly toast walnuts in the oven at the same time as the peas but be very careful as they won't take long to burn.
5. Brush slices of eggplant with oil and cook over a medium-high heat on a hot plate until very tender and a deep golden brown. Transfer to a plate and season.
6. Cut tomato into thick slices, pat dry with kitchen paper and cook on an oiled hot plate until lightly coloured; don't over-cook.
7. On individual plates, arrange cooked eggplant and tomatoes in stacks with slices of mozzarella, putting snow peas and some of the basil leaves in between. Top with a couple of snow peas and walnuts.
8. Whisk the dressing and spoon over and serve.
* The Chef's Apprentice screens on Prime on Tuesdays at 8pm.