The executive chef of dine by Peter Gordon at SkyCity answers your cuisine questions.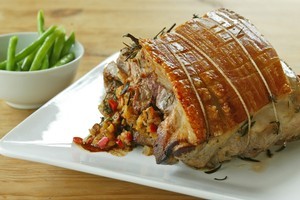 Can you suggest some other sauces and side dishes to go with roast pork other than the old apple sauce? I'd love to play with other fruits or something Asian or Spanish.
- Adam
Because pork is lovely and fatty (so long as it's not overcooked) tangy things like tamarind, ginger, sherry vinegar, Chinese black vinegar, lime zest and juice, and pomegranate molasses are a perfect match. Stew some quince or apples with one of these, some sugar or honey, and add some thyme or garlic towards the end.
Asian recipes often call for fish sauce or oyster sauce, products I'm suspicious of and don't like using. Would a good fish stock be a suitable substitute?
- Bernard
Why be suspicious? The whole of Southeast Asia can't be wrong. Fish sauce is a tasty salty seasoning like soy - there is no similar flavour or pungency. If you must, replace fish or oyster sauce with soy sauce, but never fish stock.
I was very interested in your suggestions for pork cooking. Pork is my favourite meat but I, too, have had trouble with end product. I will try crumbing them as you suggested, but I am a little confused. I thought pan-frying was done in a frypan on top of the stove, my interpretation of your suggestion was that it was done in the oven. Would I egg and breadcrumb the chops, then do the two procedures?
- Stella Brown
Flour, egg-wash then crumb the pork. Start by browning in a pan with butter and oil on top of the stove, and if the pan is heat-proof put it in the oven. If it is not, transfer the pork to a baking dish to finish in the oven.
* To ask Peter a question, click on the Email Peter link below.