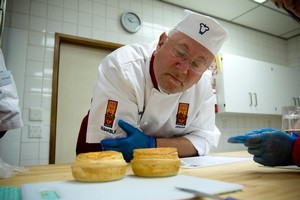 Eighteen judges have poked, prodded, dissected and chomped their way through 4400 pies at the country's Supreme Pie awards - but it will take until next week to decide which entry comes up tops.
Judging for the 2011 Bakels New Zealand Supreme Pie Awards was done in Auckland yesterday with a record-breaking number of pies from 380 bakeries around the country being assessed.
Bakels chief Duncan Loney said pies were "practically the national dish" and he was not surprised by their continuing popularity.
"I think people are going back to traditional tasty foods like pies and, quite rightly, regard them as quality food. I think people are also enjoying the sheer variety of pies, including gourmet pies, now available.
"Between the traditional and the innovative, the pie market remains very buoyant," Mr Loney said.
Forty-five awards are up for grabs, with prizes including $7500 cash and the coveted Supreme Piemaker Trophy.
Gold award winners will receive $1000 cash. The winners will be announced at a dinner on Tuesday.
- NZ HERALD STAFF