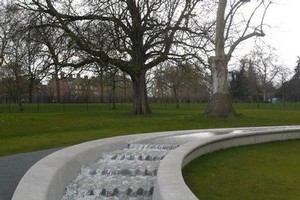 I visited the Diana, Princess of Wales Memorial Fountain one Saturday in June, less than two weeks before what would have been her fiftieth birthday.
The fountain was just one of about eight landmarks along a walk through Hyde Park recommended by my Lonely Planet book. The Serpentine Gallery was where Diana made her ultra-stylish appearance while Charles spilled all on a television interview and Kensington Palace, of course, was where she lived.
The fountain was a surprise. It was most un-fountain-like. Rather than trumpeting upwards and streaming water in all directions, it's a narrow, oval-esque, organic shape made of 545 pieces of Cornish granite along which water flows.
"So womb-like and welcoming," said my walking companion from Vermont.
Contemporary and inclusive, it has an inherent contemplative quality that invites reflection.
Three small bridges allow you to cross over the running water to the gently rolling lawn (symbolising, I guess, 'England's greenest hills' that Elton John sang of at Diana's funeral) within.
It may have had teething problems, hospitalised three people and been compared to a drainage outlet but I thought the memorial was very tranquil and unexpectedly moving.
As we neared the fountain my friend had just finished telling me what a huge Diana fan she was. Her enthusiasm for Diana was matched only by her disdain for Camilla. She felt strongly that Charles should not become king and should be passed over as monarch in favour of William.
She planned to air these views the following day at Hyde Park's Speaker's Corner where such opinions are traditionally shared on Sunday mornings.
When we reached the general area of the fountain my friend bent down to rest her fingertips on the ground. Thinking she was paying her respects to Diana, I politely looked away to give her a moment of privacy. I was wrong. It transpired she was only feeling the texture to assess its suitability as a paving surface at her Vermont home.
As out-of-towners are inclined to do, we started chatting with a man from Texas who was wheeling his bicycle across one of the bridges. The two US citizens very quickly discovered they shared the same dim view of Charles' current wife.
My friend was delighted she'd met a kindred spirit so far away from home. But it wasn't that surprising when you think about it.
Diana fans are highly likely to congregate at her memorial and friends of Diana are just as likely to disapprove of the woman who caused her so much grief. It makes complete sense.