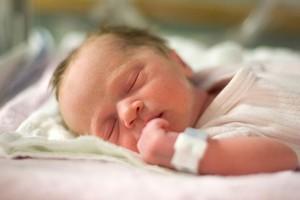 Two Australian mothers are having their blood screened for infectious diseases after each breastfed the other's baby mistakenly given to them by hospital staff.
A family member discovered the mistake more than eight hours after the babies were handed to the wrong mothers at the St John of God Hospital in Geelong.
The mothers' blood is being screened for all infectious diseases, but the risk to the babies is "negligible", the hospital said.
St John of God Hospital chief executive Stephen Roberts said the bungle occurred after hospital staff failed to check the babies' ID bracelets against the bracelets of the mothers.
He said the families were upset by the incident.
"There's been a breakdown in process. It appears that a name bracelet wasn't checked and the babies were placed in incorrect cots," Mr Roberts told Fairfax Radio yesterday.
"Unfortunately, the babies were returned to the wrong mothers, which is just a terrible tragedy and it's come as a great shock to us and of course for the families involved.
"Our protocol and processes broke down and we're obviously deeply apologetic and regretful for the pain and concern that we've caused.
"It should be a great time in any young family's life, and for us to contribute to this situation, it disturbs us that it's happened but we're trying to do everything we can to support them."
The babies had been in the nursery overnight before being given to the wrong mothers about 6.30am on Friday, the hospital said in a statement.
The hospital said it would investigate how the mistake occurred and had offered counselling and pastoral care to both sets of parents.
"We deeply regret this mistake and will be reinforcing to staff the importance of abiding by hospital protocols at all times," the hospital said.
Premier Ted Baillieu said the bungle was "entirely unacceptable".
"That's a matter that needs to be investigated and we'll be making sure it is," he said.
The hospital declined AAP's request for an interview.
- AAP