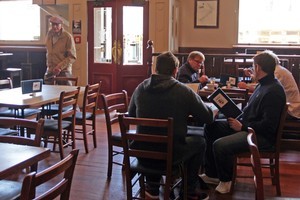 I don't get over to the North Shore very often. Not for pleasure anyway.
It takes a lot to get off my comfy couch to face the unspeakable horror that is driving down Lake Rd to Devonport. There has to be something good at the other end and, in my case, that is the Patriot bar and restaurant.
Sited in an imposing old building in the heart of Devonport, the Patriot is a fine old pub, although it's unlikely to attract the bright young things in search of outlandish cocktails and the latest "in" place.
Instead, it's the sort of pub where you'd feel perfectly happy dropping in for a couple of pints in the afternoon.
They sell proper pints, too, the full 568ml in each glass, which is a bonus, and have a reasonable range of beers on tap, including Guinness, Kilkenny and English stalwart Boddington's. The wine list is nicely put together too, if a touch slim.
The food is solid and in places quite excellent, especially their fat chips, which are divine, if something of a naughty treat.
It's the size of the Patriot that I like. There is plenty of room and the verandas are nice spots to linger over a few drinks and a chat, but I can't help but think that they could use the space more effectively.
The service is fine, friendly without being fawning although a little more conversation with the punters would probably go a long way.
All in all, then, a good pub and one that deserves to be busier than the day I visited.
Perhaps the locals are a little too genteel to spend their afternoons in the pub and perhaps it was the thought of driving along that wretched strip of tarmac known as Lake Rd that deterred visitors. It would be shame if that were so, because the Patriot deserves to be more widely patronised.
Scores
Service: 3.5/5
Drink: 3.5/5
Food: 3.5/5
Atmosphere: 4/5
Overall: 3.5/5