Pan-seared Venison with Thyme, Berry & Red Wine Reduction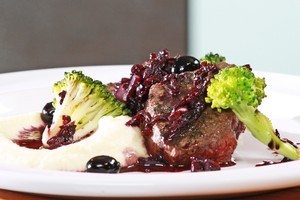 8 venison medallions
1 handful of fresh thyme, leaves picked
8 juniper berries
10 black peppercorns
3-4 tbsp high heat oil
3-4 shallots, peeled & finely sliced
3 garlic cloves, peeled & finely sliced
1½ cup merlot wine
knob of butter
handful of blueberries
sea salt to taste
1. In a pestle and mortar bash and grind thyme, juniper berries, sea salt and black peppercorns. Loosen the herb and spice mix with avocado oil to make a paste. Pat the venison dry with kitchen papers. Rub on herb paste and season with a little more salt. Keep in refrigerator until needed.
2. Take venison out of refrigerator 30 minutes before cooking to bring to room temperature. Over a medium-high heat place medallions into an oiled, hot pan for 2-3 minutes each side (depending on size). Set aside to rest on a plate for 3-4 minutes, covered with tin foil.
3. In the same pan reduce the heat; add a splash of high heat oil.
Add shallots and garlic and gently fry until they go translucent and soft for about 3 minutes. Be careful not to brown. Turn up the heat and add the wine and reduce by half. Add blueberries for 2 minutes then remove from heat and add a knob of butter. Swirl the pan around until the sauce goes shiny. Season to taste.
4. Serve this on parsnip mash and with steamed broccoli.
Parsnip Mash
5 parsnips
200ml cream or, for a healthier version,use milk
100g butter
sea salt & white pepper to taste
1. Peel and cut the parsnips into quarters. Remove the woody core. Transfer to a saucepan and cover with water. Bring to the boil and simmer until tender (approximately 10 minutes).
2. In another saucepan add the butter and cream/milk. Bring to boil and remove from the heat.
3. Once the parsnips are tender strain off the water. Transfer parsnips to a food processor and add half the cream/milk mixture. Start to process, adding a little of the cream/milk mixture at a time until a fine and silky texture is achieved. Season to taste.
Good gardening
Lettuce loses a lot of its nutrients within the first 24 hours of harvesting. McGregor's gourmet seed range allows you to grow more speciality vegetables like mizuna lettuce or endive in your own garden.
Good nutrition
Cooking with blueberries: Blueberries are a natural source of antioxidants and research has shown that the phytochemicals found in foods like berries may inhibit cancer cell development. When cooking with blueberries, be careful not to overcook them or they will lose some of their nutritional value.
Watch The Chef's Apprentice and win
Watch The Chef's Apprentice, answer the question from each week's episode and be in to win a $5000 package of Fisher & Paykel appliances of your choice, to be drawn at the end of the series.
Each entrant will go in the weekly draw to win prizes from Breville and McGregor's gardening supplies. This week's Breville prize is a Control Grip Stick Mixer.
To enter visit winwithheraldonsunday.co.nz, enter your details and answer the question below:
Week one: What was the secret ingredient in which the Clooney chef bathed the venison to keep it tender?
The Chef's Apprentice screens on Prime on Tuesdays at 8pm.