Pulses are a nutricious and cost-effective alternative to meat and can be used in main course recipes as well as delicious starters..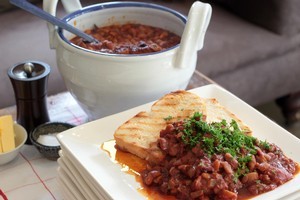 A pulse is the general term for the edible seed of a pod-bearing plant. Beans, lentils and peas fall into this category and are available dried and, in most cases, canned.
Pulses are high in protein, light in carbs and extremely cost-effective in extending your dishes. They feature in all the world's cooking.
In the West they are increasing in prominence as our interest in global cuisines develops and our desire to use less meat rises, for health or budget reasons.
To cook dried beans, you first need to soak them overnight in plenty of cold water. The next morning, drain off the water and cover your pulses with fresh cold water (3 parts water:1 part beans) and simmer until tender.
If using canned beans, rinse them before using. Unfortunately, most supermarkets seem to only stock dried peas and lentils (most commonly used in soups), other pulse offers will be in cans.
While canned pulses are cheap and convenient you will save even more by tracking down a supply of dried beans. Try Indian, Asian and Mediterranean food warehouses or organic wholefood shops.
Home Made Baked Beans
1. Finely dice 2 medium onions and 2 garlic cloves.
2. Cook in oil until soft, then add 2 tablespoons of tomato paste.
3. Add a pork or ham hock (such as you would use for soup). Add 4 cans of drained, rinsed beans - cannellini, butterbeans, haricot or navy beans are all fine. If using dried beans, soak a white variety and cook as above. You need about 1.5kg of cooked weight.
4. Strain 4 cans of tinned tomatoes (mash if whole), add to the pot. Add 1 can of water, 2 bay leaves 2 dessertspoons of worcester sauce, 2 dessertpoons malt vinegar and the same of soy sauce.
5. Add 3 tablespoons of Blackstrap molasses, or maple syrup or treacle if you cannot find molasses. Simmer on the top of the stove until well combined (it will be quite soupy).
6. Transfer to a baking dish and put into a moderate oven, uncovered, for 1.5 hours. You will need to stir occasionally and may need to top up with some water or the juice you strained from your tomatoes.
7. The dish is ready when the meat is falling from the bone and the mixture is a gloopy consistency. Shred the meat into the mixture.
8. Serve on toast. Leftovers can be frozen in portions for future use.
Tasting Platter
I always have a supply of canned beans in the pantry, usually bought when on special. They are invaluable if you need to quickly whip up a dip to serve with some toasted bread or crackers to soak up a few drinks.
Butterbean dip
1 can of butter beans (or any white bean) drained and rinsed
Basil leaves
Flat leaf parsley or finely chopped rosemary (go easy on this strong herb)
Juice of a lemon and the zest of half a lemon
Put everything into a blender and stream in olive oil till you have a smooth firm purée. Season with salt and pepper.
Kidney bean dip
1 can of kidney beans, drained and rinsed
Half a red onion, finely chopped
Half a red chilli, deseeded and finely chopped
Juice of one lime
A good amount of chopped fresh coriander
Put everything into a blender and stream in peanut oil until you have a smooth firm purée. Season with salt and pepper.
Beetroot horseradish hummus
1 can of chickpeas, drained and rinsed
Equivalent amount of cooked fresh beetroot, chopped finely. It must be tender. Don't use canned
1 tablespoon of prepared horseradish cream - more if you like
2 tablespoons of tahini
Juice of a lemon
Put everything in a blender with a slug of olive oil and begin to puree, streaming more olive oil until you have a smooth, firm purée.
Crunchy Lentil Crust
This is great on fish, excellent on salmon and could also be used on skinless chicken breasts. Makes enough for 4 fillets of fish.
1. Toast a cup of red lentils and another cup of mixed seeds and nuts - pumpkin, sunflower, cashew, peanuts, hazelnuts - whatever you like or have on hand. Pound the toasted ingredients with a mortar and pestle or pulse in a food mixer.
2. Add half cup of almond flour to this mix, with finely chopped fresh coriander or parsley, chilli if you like, and maybe some finely chopped sundried tomatoes. You can add whatever herbs, spices or seasonings you fancy to the base mix.
3. Mix everything into a paste by adding some oil of your choice, and then pat on to the top of your fish to form a thick crust.
4. Cover in foil and bake until the fish is nearly cooked. Remove the foil and allow the crust to crisp up before serving .
5. A squeeze of lemon or lime is all that is needed to add zing.
* Grant Allen has been a professional cook for 30 years. He works as a caterer in Auckland. Visit his Facebook page.