Susan Edmunds gets tips on how to ratchet up her pedal power for road racing.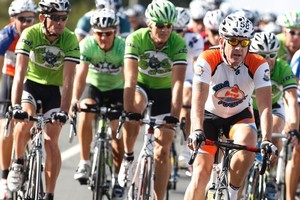 Although you might never wear a yellow jersey in the Tour de France, cycling coaches say the only real key to switching up your bike-riding from a Mission Bay meander to a Lake Taupo Cycle Challenge finish is commitment - and a lot of time spent on two wheels.
The first thing you need to do is structure your training programme. "It's up to the individual rider," cycle coach Gordon McCauley says, "But if you're doing the same thing all the time, you're going to get the same results." Work out where you need to improve - it might be your speed, the distance you can cover, or your ability to tackle hills - and then develop a programme that has you continually targeting your weak points.
Geraldine Marson, the teacher in charge of the cycling programme at Auckland Grammar School, says the school's coaches focus on bike skills before riders progress to anything else. "You need a certain level of competence on a bike ... you wouldn't put them into a road race without bike skills." As well as training on a windtrainer, she says students in the cycling programme are always out riding, getting training in how to sit on the bike, how to clip in and clip out without falling off and general bike handling.
Knowing how to use your bike's gears effectively makes a big difference when you start cycling more seriously. A typical 21-speed bike has three front gears and seven at the back, giving a total of 21 possible gear combinations. The gears are numbered, like a car, from lowest for when you want to increase your speed through to highest for when you need the pedals to be able to keep up with you, for example down hills. A shifter on the handlebars moves the bike's chain on to a different ring when the rider changes gear. In a bike with more than 10 speeds, the left-hand gear shifter's numbers are equivalent to about six on the other side. So the left-hand gear shifter is for situations such as when you encounter steep hills and want to change gear quickly. The right-hand shifter is for smaller changes and controls the rear cluster gears. Only change gears while pedalling, although not while pedalling hard.
A lot of cyclists are intimidated by the prospect of riding in a bunch. McCauley says the only way to get used to riding in a bunch and improve, is to keep doing it.
"You learn to ride in a bunch by riding in a bunch," he says. He tells his cyclists to look for smaller club races to take part in to get used to the rhythm and flow of the bunch and to learn how to bump into someone without falling off. "You just get used to it and do it."
Marson says it's only through doing it that cyclists pick up the elements of working together in a bunch and taking turns at the front. New cyclists often encounter problems with when to move out of the way, when to brake and when not to. "They start off in lower grades at the back of the bunch ... it can be quite daunting with no training to go straight into a bunch."
She says lots of cycling clubs in Auckland run bunch rides in the early morning or evening with a range of riders wanting to cycle at different speeds. That is a good option for those riders still picking up race skills.
McCauley says training on a stationary bike or windtrainer is fine if you want to build up your fitness and is a good way to nut out the technicalities of a bike. People who aren't sure about how to use gears effectively can get some training in a windtrainer class and get used to the feel of them.
"If you're not confident changing gear on the road, practise indoors. Just practise, practise, practise."
He recommends training in the countryside, or on city roads outside peak hours. "The morning might be all right but after work people will drive over you to get home."
When it comes to equipment, he says the most important things are comfortable cycling shorts and a good helmet. People who want to ride seriously should get a bike from a reputable bike shop where they will be fitted for it properly. "Ask around to find out which are the reputable bike shops where you will be able to get a good bike fit."
McCauley says the number one question he is asked as a cycle coach is: will I get a sore butt? "The answer is yes; it's a case of persisting with it. Eventually it will stop."