When it comes to old-fashioned arthouse cinemas, Auckland is spoilt for choice, writes Cate Foster.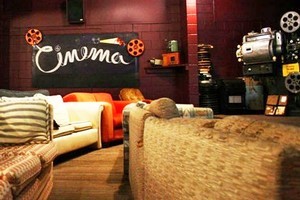 Waiheke Community Cinema - like watching a movie with all your friends.
Comes a time where the thrills and spills of the endless parade of action movies, or the predictable inter-gender manoeuvrings of the romcoms no longer quite hit the spot and you find yourself craving a meatier cinematic diet. That's where the arthouse movie theatres come in. Auckland and its environs are blessed with nine of them. This weekend, many are becoming satellite screens to the New Zealand International Film Festival based at the Civic. And it's the arthouses where you'll see the bigger festival films returning in coming months.
Online booking for some of them makes pre-planning a breeze, though if it's not a new release on a Saturday night, dropping in for a spontaneous bit of escapism is usually possible at most venues.
Academy Cinema
44 Lorne St, Auckland
First established in 1982 and the city's first regular home for foreign film, the Academy is now a twin-screen boutique cinema in the very heart of the CBD. It's tucked away in the basement of the Auckland City Library Building. With two auditoriums, the smaller of the two is called the Encore and seats a mere 16 in luxurious comfort. Sitting here in the intimate shadows of a room no larger than a big living room, you feel you could be watching a movie in a private home theatre.
In recent years, the Academy's programming has moved away from the European cinema that was its once mainstay to a programme appealing to younger inner city residents. That's a mix of foreign flicks with independent New Zealand features and documentaries as well as cult classics such as The Rocky Horror Picture Show - complete with the invitation to dress-up - and Pink Floyd's The Wall. The Academy also hosts The Auckland Film Society's weekly Monday night screenings, though the venue is being given over to the film festival The left-field, partly designed to appeal to young inner inner city residents.
How to get there: All buses and trains into the CBD and walk to the library end of Lorne St. Terrible parking unless you don't mind the expense of the nearby car parking buildings.
Disability friendly? Not terribly but give 45 minutes' warning and all will be arranged using security from the adjacent library.
Food and drink: Licensed bar and cafe on site and all of the CBD is on offer for a meal before or after. The Elliott Stables Epicurean Village is a few minutes' walk away.
Contact details: For internet and phone bookings (09) 373 2761.
The Bridgeway
122 Queen St, Northcote Point
Until recently the North Shore's only arthouse cinema, The Bridgeway has long been a beacon of esoteric delight in the easy reaches of the North Shore.
Four screens, including Cinema 4 with its intimate 18 seats, and good eating nearby means it's an easy choice for city dwellers who don't mind popping over the bridge. Its programming parallels the Rialto and the Lido with movies at the more commercial end of the arthouse movie spectrum. And it's become a home away from home for classical, opera and theatre buffs for its screenings of concerts and plays straight from the stages and concert halls of Europe.
How to get there: Drive and park in side streets, or take 955 or 973 buses to Onewa Rd and walk for 15 minutes.
Disability friendly? Lift access, removable seats for wheelchairs and assisted audio devices available in all four cinemas.
Food and drink: Licensed theatres, cafe and bar plus the adjacent Sausalito Cafe for convenient pre- or post- movie meals.
Contact details: (09) 481 0040, internet or phone bookings recommended for Friday and Saturday sessions. Reduced prices for all sessions Monday and Tuesday and for matinees Wednesday-Friday.
Capitol Cinema
610 Dominion Rd, Balmoral
This beautifully refurbished cinema in one of Auckland's older inner ring suburbs was first built in 1923 and had a previous arthouse life as Charley Gray's Pictures in the late 1980s. The venue still positively reeks of history - and it has to be said the new carpets are pretty good too.
Because this is a single-screen theatre the lobby is never overcrowded and locals use it as a pop-in spot to meet friends and relax in its retro-inspired booth seating while enjoying cafe quality coffee and snacks. Its programming aims at edgier titles than its partner cinema - with which it shares a website - the Lido, over the hill in Epsom.
How to get there: Drive and park in the side streets or park in the public carpark by The Warehouse, or take the 258 bus from the CBD.
Disability friendly? Because this is a heritage building there is no lift, but assisted audio devices are available.
Food and drink: Licensed bar, excellent coffee and banquette seating.
Contact details: (09) 623 2000. Phone booking only.
Victoria Picture Palace
48-56 Victoria Rd, Devonport
Built in 1912, The Vic, as it is locally known, can proudly claim to be the oldest cinema operating in Auckland - although to be accurate its facade and staircase are from the later art deco period. Reopened and refurbished in late 2010 after a huge effort by the Victoria Theatre Trust and its army of volunteer enthusiasts, this historic three-screen local icon had been closed and in disrepair for many years. Still less than a year since its grand reopening, it provides a second arthouse venue on the North Shore, and since it doubles as a live performance venue, is fast re-establishing itself on the entertainment scene. Its programming mixes an increasing amount of mainstream Hollywood fare with a smattering of left-field offerings to an audience of locals and downtown city-dwellers who pop over on the ferry.
How to get there: Drive and park in the public carpark off Fleet Rd, catch the ferry from town or the 813 bus from Takapuna.
Disability friendly? The street-level Victoria Theatre has ramp access and space for wheelchairs. The other two auditoriums do not as they are upstairs and this is a heritage building.
Food and drink: Situated in the heart of Devonport village so there are eating places galore in the nearby streets. Licensed theatres and coffee offered in a small meeting area just off the lobby.
Contact details: (09) 446 0100. Phone and internet booking available.
Hollywood Cinema
20 St Georges Ave, Avondale
One of Auckland's oldest cinemas, this 1915 local icon features a 1926 Wurlitzer organ for special performances and was once famous for showing The Rocky Horror Picture Show from 1978-1988. Today it is known for its many nostalgic movie screenings as well as a good cross-section across all genres, and as such is not totally arthouse. However it is totally locally owned and operated, and with its quirky programming plus the organ, the history and the ambience, this is a piece of Kiwiana that well-deserves its place in Auckland's cinema history. Can be booked for special events where, by arrangement, the organ can be part of the entertainment.
How to get there: Drive and park locally or catch the 163 and 113 buses from the CBD. Avondale station for the Waitakere train from Britomart is less than five minutes' walk away, although slightly uphill on the return journey
Disability friendly? Yes, with help from the friendly staff. Come 15 minutes early.
Food and drink: Candy bar, but not licensed. The recently revamped RSA Restaurant, 2 Veronica St, New Lynn. Ph 827 4311 is well thought of locally for a traditional inexpensive meal
Contact details: (09) 828 8393. No bookings necessary as seating is always available in this huge auditorium.
The Lido
427 Manukau Rd, Epsom
A successful suburban arthouse cinema for decades, the Lido has long time been the perfect place to escape for an unwitnessed session of matinee indulgence. Built in the 1920s and refurbished in 2005 the two theatres at the Lido are comfortable and spacious and have the luxury of lounges outside each cinema with open fires, squishy sofas and dim lighting. Offering consistent arthouse programming on one of the bigger arthouse screens in town, this comfortable suburban institution never disappoints. It is one of the cinemas hosting some film festival screenings.
How to get there: Drive and park locally or catch the 384 bus from the CBD.
Disability friendly? Completely with lifts, lift-out seats and assisted audio devices
Food and drink: Onsite coffee bar and licensed theatres and the adjacent Sakebar Nippon is good for local dining.
Contact details: (09) 630 1500. Phone booking only
The Rialto
Rialto Centre, 167-69 Broadway, Newmarket.
Part-owned by Event Cinemas and part of a national chain, the Rialto Newmarket is behemoth of the Auckland arthouse scene, its seven screens offering various levels of left-field fare. Being central to most of the city, it's a good place to meet if your friends come from far and wide. Because of its size, there won't be many arthouse movies with commercial legs coming to Auckland that don't get programmed here. The cinemas are all comfortable though it has to be said the experience is more impersonal than at one of the smaller suburban theatres.
How to get there: By train on both lines to Newmarket Station, or 635 and 502 buses from the CBD. Parking is plentiful in nearby carparks but adds to the expense and meter parking is both hard to find and slightly too short to cover a session. Newmarket also has high car crime stats so it pays not to leave stuff in your car.
Disability friendly? Lifts to theatres, lift-out seats but only limited wheelchair spaces, so it pays to book these in advance. Assisted audio devices available.
Food and drink: Along with the onsite bar and cafe for the licensed theatres, the adjacent foodcourt with a range of the usual cuisines makes the Rialto an easy place to rendezvous with friends for a night out. Archies, nearby at 61 Davis Cres, is a pleasant inexpensive place to round off the evening. Half-price meals offered before 4pm.
Contact details: (09) 369 2417. Online booking recommended for busy sessions, especially at the end of the week as seats are allocated.
Matakana Cinemas
2 Matakana Valley Rd, Matakana
The newest cinema in the wider Auckland region, this is a sophisticated three-screen complex which, as it aims to be a focus for the local community and visitors from Auckland alike, provides a broad range of mainstream and commercial arthouse movies. The film selection might be good, but go for the decor too. The lobby is magnificent, simultaneously funky and elegant with outsized art and a well-stocked bar. Each of the theatres has an eye-catchingly different decor but the Paradiso, with its ceiling of roses, is my favourite. The colours of the toilets are bracing, amusing or scary depending on the fragility of your system on the day.
How to get there: Drive north for about 50 minutes, turning off at Warkworth and following the signs. Park locally, although be aware that Saturday is market day and can be very crowded.
Disability friendly? Lifts, space for wheelchairs, lift-out seats and audio enhancement devices.
Food and drink: Licensed cafe and theatres and the onsite presence of the Matakana Market Kitchen make an outing to this destination cinema a breeze.
Contact details: (09) 423 0218. Phone or email dan@matakanacinemas.co.nz.
Waiheke Community Cinema
Artworks Complex 2 Korora Rd, Oneroa, Waiheke Island
With comfy pre-loved sofas, dim lighting and a laid-back mood, this one-screen, volunteer-run community theatre is the place to kick back. A holiday isle needs a cinema and this cute community offering definitely fills that slot. Interesting programming of mixed local and international drama and documentary, plus popular offerings for children, this is a place made extra special by that singular island ambience.
The recently raked floor means that all areas of the room have reasonable views of the screens, which as well as regular screenings are used for fundraisers or private events. Local resident and frequent user Mary Evans wouldn't be without it. "It's a great asset to the community. It has a fantastic atmosphere, just like going to the movies with all your friends."
How to get there: Ferry to Waiheke, followed by a 20-minute walk or short bus or taxi ride to Oneroa.
Disability friendly? All on one level, so wheelchair access is easy.
Food and drink: Mary recommends the Ajadz Indian Takeaway, which is also in the Artworks complex. Not licensed.
Contact details: (09) 372 4240. Phone bookings only.
- Additional reporting by Russell Baillie