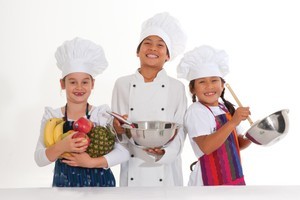 1. KidsCook workshops
Lynnmall, Monday July 18 Sunday July 31, 10.30am, 12.30pm and 2.30pm daily: $5 (proceeds to the Foundation for Youth Development). Register: LynnMall Customer Service Desk
Health Sponsorship Council and MasterChef cooks will run workshops on basic healthy recipes for primary and intermediate-aged children, with tips on healthy breakfast habits for improved performance.
2. KidzKitchen
20 Beaumont St, Freemans Bay. Ph 09 3021460. Tuesday July 19 or Wednesday July 27, 11-1.30pm. $49, includes food costs.
A cookery school that arms kids with the basic techniques for the essential life skill of being able to prepare food. Great fun - and the kids are out to cook to impress.
3. Ruth's Cooking Classes
Ph: 027 817 7127 $40 per class.
email: ruth@ruthscookingclasses.co.nz Friday July 22 and Thursday July 28, 10 - 12pm Classes for kids ( 8-13) and teens (13+) with favourites like chicken dippers, afghans and luxury cupcakes.
4. Milly's Kitchen
Ph 09 309 1690. Saturday July 16, Monday July 18, Wednesday July 20, Wednesday July 27 - see website for times. $65 includes cupcakes or cookies, icing, decorations and tools.
Kids under 14 accompanied by an adult; teens welcome. Decorate cookies, cupcakes or pops in two-hour classes with ideas to wow your friends and family. KidsCook workshops are being held at Lynnmall.