It takes a whole day to make but a French cassoulet is worth the effort.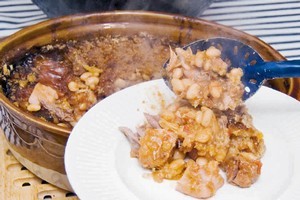 Tomorrow marks Bastille Day - the day the French celebrate their culture wherever they may find themselves in the world.
I learned how to really cook from a Frenchman. Pierre Meyer was one of New Zealand's early food pioneers who arrived from Geneva in the early 1960s.
I fell into the food business by getting a job at his newly established French bistro, Pierre's, in Wellington 30 years ago. Three years later I became a partner in that restaurant and we operated for the next 16 years. If those walls could talk ...
Because of that experience, I tend to fall back to uncompromising French techniques in my cooking, including the quality of raw ingredients and preparation.
The French cassoulet is a tribute to preparation and slow cooking as it takes a night and a day to make. If you start this recipe tonight you will have a Bastille Day dinner tomorrow, or delay serving it until next weekend (it will keep and improve).
Insist everyone brings French wine, have a Gallic good time and get gold stars for your efforts.
Although there are many recipes for cassoulet, this one is based on a version from the French province of Languedoc, famous for its sausages and foie gras.
Cassoulet de Toulouse
* Cover 700g of white beans and a 300g piece of belly pork with cold water and soak overnight.
* Strain and put into a large pot with 2 peeled carrots, 1 onion stuck with cloves, 1 can of strained chopped tomatoes, 2 cloves of garlic and a bouquet garni.
* Cover with water and simmer for at least 1.5 hours until the beans are tender.
* Confit 2 duck legs by putting them in a covered vessel in a moderate oven and allow them to cook in their own fat.
* In a large pan brown 400g of boneless lamb shoulder cut into chunks. If possible use duck fat (available at some delicatessens); if not, use oil or butter.
* Add 2 chopped onions and 2 chopped cloves of garlic and cook until soft, then barely cover this mix with water from the bean pot.
* Add another can of strained diced tomatoes, another bouquet garni and season well with salt and pepper.
* Cover the pan and simmer for 1.5 hours
* Fry 3 pork sausages; try for those with a chunky meat filling. Cut into pieces, add to the lamb and simmer for another 10 minutes.
* Preheat the oven to 180C.
* Remove the carrots, onion, bouquet garni from the bean pot and discard.
* Cut the belly pork into large chunks.
* Rub the inside of a large casserole with a clove of garlic.
* Place half the beans in the bottom of your casserole, then add all the meat including the duck legs (leave them whole), then cover this with the rest of the beans.
* Put into the oven and once mixture starts bubbling sprinkle the top with a layer of breadcrumbs.
* Allow to bake for 1.5 hours. During this time you need to break the crust that forms on the surface, stirring it into the mix then sprinkling with some more breadcrumbs. You should do this every 15 minutes.
* Leave the last crust to brown.
* Serve at the table with bread and a salad of winter greens, and wait for applause.
Bouquet garni
This little bundle of aromatic herbs is tied together to flavour stews and sauces. All you need is 3-4 sprigs of parsley, a bay leaf, 2 sprigs of thyme, and a piece of string to bind it together.
* Grant Allen has been a professional cook for 30 years. He works as a caterer in Auckland. Visit his Facebook page.