Antique store owner John Stephens is passionate about his work, making regular trips to France to hunt out treasures. Viva finds out what else stands his test of time.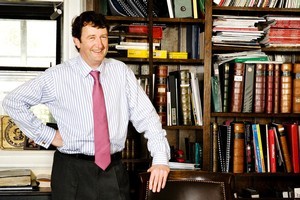 John Stephens is the owner of John Stephens & Co, a beautiful antiques store that focuses on genuine quality French and English period antique pieces with a special sense of history and elegance.
Stephens, who began the business 23 years ago and has a background as a physics and mathematics graduate and electrical engineer, visits Europe to source antiques that he has restored locally.
Recent additions to his showroom include a stunning French empire commode, or chest of drawers, with inlaid brass key escutcheons and serpent mounts, classic Louis XIV armchairs and a French rococo gilded mirror.
His interests don't just lie in antiques however: Stephens is also involved in the company Weatherby George, which designs, manufactures and installs bookcases and wine cellars, and several years ago he bought a chapel that was set to be demolished.
Stephens, self-proclaimed as one of Auckland's most eccentric antique dealers, talks us through some of his favourite things.
10 FAVOURITE THINGS
1. Bookcase
Having a lot of what my children would call "clutter" that I call "crucial reference material," I need and love my office bookcase, complete with ladder. Like the wine cellar, it was custom-made for the space by Weatherby George & Company.
2. Gustavian chest of drawers
This piece is one of my particular favourites at the moment. A rare piece, it was made in the Swedish manner during the 1700s. Gustavian pieces are currently all the rage at "Battersea", London's trend-setting decorative and antiques fair.
3. Rick Stein's Seafood Lovers Guide
I absolutely love seafood, and Rick Stein is my kind of cook. My wife is Cornish, and we love watching his show Food Heroes particularly when it is filmed in Cornwall with the locals. Rick Stein uses fresh seasonal local produce and creates wonderful dishes with very little fuss and no stress. For me, it's about picking up tips for my experimental seafood dishes.
4. The shop
A decade ago we moved our antique business from Parnell to 15 Shore Rd, Remuera. The building is an integral part of the business and our lives. We assisted in its design and literally built it from below sea-level up when we attempted to construct a basement and found we were awash in sea water one memorable Easter. Its design is based on a building I saw in Brittany on one of my buying trips. The shop has an industrial-style ground floor with a traditional brick upper floor.
5. Louis XVI couch
The majority of our antiques are bought in France. I fly to Europe once or twice a year to source furniture that passes muster. I also have an extremely close friend and experienced buyer from Sheffield who makes monthly trips to France. Digital images and daily phone calls serve to maintain a range of high quality stock. This couch is one of our most recently restored pieces, fresh from the restorer. Fantastic.
6. Te Aroha poster
I was brought up in Te Aroha, in the Thames Valley. At an exhibition recently I stumbled across this vintage Tourist Bureau poster advertising Te Aroha as a holiday destination. I enjoyed a very happy childhood in this small rural community, but a holiday destination ... The poster was a must-have!
7. Wine
As any of my family, my GP or friends will testify, I have had a long-standing love affair with wine, my particular favourites being red burgundy and chablis. This passion developed from a casual glass of wine with dinner, to wine tasting with friends and the cellaring of my favourites. It was the catalyst for the establishment of Weatherby George, our company that designs and builds top-of-the-range wine cellars.
8. Frances Hodgkins' Belgian Refugee Children
Painted by Frances Hodgkins while she was working in and around France during World War I. The work is a beautiful, dark, emotive painting that holds boundless character and depth. The piercing eyes of the troubled children remind me how lucky our children are to live in New Zealand.
9. Moir's Guide to The Otago Southern Alps
A tramping and transalpine guide. I am a keen tramper, and each year a group of good blokes get together and tackle another iconic New Zealand pass or trail. My favourites are The Five Passes above the Routeburn and The Three Passes in Arthur's Pass National Park. My son is currently completing his Duke of Edinburgh Award along with members of his scout troop. The boys will tramp the Travers-Sabine in the Nelson Lakes at the end of the year. A couple of experienced dads and I will be lurking in the bush keeping an eye on their progress.
10. St Peter's, Onehunga
Never happier than when I have a building project on the go, a few years ago the opportunity arose to save a beautiful old church in Onehunga from being demolished. St Peter's is a charming Selwyn chapel built in the 1840s. One day I hope to restore this historically significant building to its former glory and move it to a site it deserves.