Dodging death and rescuing dogs is all part of a day's hike for Wendyl Nissen.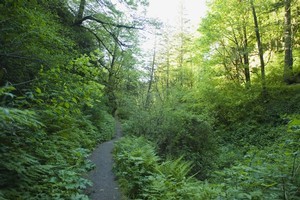 I recently bought some hiking boots on TradeMe with the intention of getting into a little tramping.
"It seems such a pity not to make the most of all these terrific bushwalks out at the bach," I said to my husband, who had just choked on his coffee at the sight of my boots. He can barely coax me down to the park for a short walk with the dog, let alone an uphill hike in heavy boots which would feel quite at home on the feet of an SAS soldier in Kabul.
"I'd like to get into a little tramping too, but I'm a bit busy," he lied.
A week later I was at the bach alone and decided to set off on my first tramp. But as I put one foot in front of the other, the "lost in the bush" scenarios began to play out. I was at the bach alone, there was no cellphone coverage, there had been a lot of rain.
I went back to the bach and rang my husband.
"Even though there's no cellphone coverage, do you think the searchers will be able to track my position using my SIM card?"
"I have no idea," he said. "I'm sure you'll be fine."
I made him write down the name of the track I intended to follow.
"If you haven't heard from me by dusk, call the authorities!"
I set off.
"Fresh air and exercise, I'll live to 100," I told myself as I trudged along, until I felt the effects of the boots attached to my feet. "Bit heavy," I mumbled. "Exhausted," I gasped as I stumbled into the local store, having abandoned the track after only 10 minutes. Which is when the dog found me. A terrier of some sort, he raced up to me as if I was his long-lost owner.
"He's lost," said the woman behind the counter. "He keeps rushing out in front of the cars; I'm terrified he'll get killed."
"Best tie him up," I suggested helpfully as I left.
But by the time I had got back to the bach, I had a new dog. I rang the store.
"Maybe you could keep him for now," she said. "I'm sure someone will come home from work and discover him gone and give you a call."
I looked at the dog, whom I had named Harry. Harry looked at me.
The poor thing was exhausted, so I put him in the sunroom at the bach as the landlady doesn't allow dogs.
"There's a nice warm blanket, a bit of food and some water. I'm sure you'll be happy there until Mummy or Daddy comes along."
They didn't and he wasn't. He howled and whined all night. I managed about two hours' sleep.
"We don't need another dog," said my husband sternly when I rang him in the morning. "If he's as cute as you say, I'm sure he'll be adopted in a jiffy at the SPCA, who you are going to call as soon as I hang up."
I picked up Harry and gave him a cuddle. I got out the phone book and started reluctantly scanning the "S" section when the phone rang.
It was the store.
"We'll have him," said the kindest man I have ever talked to. And within five minutes, Harry had a home.