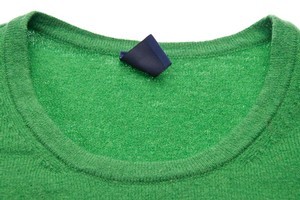 Our drycleaner called last week about a cocktail frock they were cleaning for me. It was a sequinned Donna Karan shift I'd just snaffled for half-price in Harvey Nichols' summer sale. I'd worn it to a dinner in London and needed it turned around quickly for an upcoming cocktail party in Arrowtown.
My husband uses this drycleaner regularly for his business shirts. Twenty years ago I used to iron five of them a week in return for a $25 reduction in my share of the weekly rent but those days are long gone.
Having retired from ironing, I make a point of not buying anything (save the occasional 'Dryclean Only' party dress) that isn't immediately wearable after drip-drying on a coat-hanger.
When I first went on strike Kevin had a brief stint in charge of his own shirts. His strategy mainly involved ironing only the fronts on the basis he would keep his suit jacket on at all times. But he abandoned this approach when he realised that showing a creased collar and cuffs wasn't exactly a winning approach for anyone keen to get ahead in their chosen profession.
So now it's handy that I'm able to add the occasional garment to his weekly dry-cleaning drop-off but - despite having sent muddy pony blankets and disgusting stable boots to be dealt with - this was the first time I'd been asked to telephone the drycleaners.
Once I'd cleared their security procedures by giving them my husband's mobile number and his name, the attendant was free to discuss my dress. But not before I'd duly noted that if all I needed was a name and telephone number then I could get them to divulge the dirty laundry secrets of a large number of my friends and acquaintances.
I digress. Evidently, the situation here was that if they were to follow the care instructions on the label of my cut-price frock the sequins might become bent and discoloured.
"Is there another approach you recommend then?" I asked.
"No, we like to follow the care instructions. We just wanted you to know," the woman replied.
So I agreed to them proceeding although, frankly, the sequins are the whole point of the frock.
But it got me thinking about the absurdity of some modern-day care labels.
A few years ago I bought a Seafolly bikini that cautioned: "Some colours may fade in sunlight and chlorinated water. Some colours may bleed or transfer when wet. Avoid contact with suntan lotions, oils, rough surfaces, pools and spas treated with harsh chemicals."
Okay. So this was allegedly swimwear yet it would be advisable to avoid sunlight, water, pools, suntan lotions, oils and spas. That was crazy talk.
On the other hand I was thrilled with my pale pink Trelise Cooper 'Hanky Panky' frock that came with a label detailing instructions on how to maintain the deliberate 'scrunching' effect inherent in the garment. This means no ironing is required and it can withstand hours being crushed in your luggage. Perfect.
Just before my trip to London I purchased an Isabel Marant top with a label that read: "Should you find any unevenness, please note that it is due to the fabric and/or its manufacturing."
This, I admit, was a new one on me. I've read many flowery stories along the lines of "any imperfections you may detect just add to the natural beauty and character of the garment" but all this was really saying was that their production processes are questionable. Strange.
And for the record: I've not yet collected the sequinned frock in question.
Wish me luck.