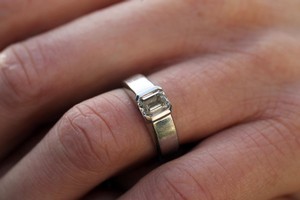 Never mind the idyllic honeymoon - jewellers are sending expensive engagement rings on their own tropical holidays to avoid paying tens of thousands of dollars in tax.
On his jeweller's advice, one besotted groom saved more than $25,000 on a $206,000 rock by arranging for the jeweller to sell it to him through a duty-free store, taking it away on holiday with him then flying back in without having to pay GST on it.
The loophole, quietly recommended by many jewellers, has become popular after last year's GST hike. With the tax now increased to 15 per cent, jewellers and engaged couples can together save $1500 on a $10,000 ring - enough to cover cheap air flights to the Pacific, and still allow the jeweller to pocket a little extra revenue.
Diamonds on Richmond owner Michelle Wobcke said the practice was common and she recommended it to her customers - including the buyer of the $206,000 rock, whose identity she refused to disclose. "It was a solitaire with three-carat, high grade diamonds and really big," she said. The only catch was that the buyer - or a friend or family member - needed to take a trip overseas to get the discount.
Couples buy a ring, less the 15 per cent GST, and the jeweller sends it to a collection point at the airport.
The owners or their family members pick it up for a $250 fee. They fly out with it, then bring it back on their return.
The fee was minor compared with the savings couples were making, said Wobcke.
Another customer had a girlfriend in New York and had bought a ring, which he would pick up in duty free before going over to pop the question.
"He paid about $7000 so would have saved $1050," she said. "They save a lot."
The company advertised duty free sales on its website and about 90 per cent of customers bought engagement rings this way, said Wobcke.
Customs New Zealand said the practice was legal "as the ring is being exported and then is being returned to NZ as part of the owner's personal effects", said spokesman Rowan McArthur.
It extended to personal items like watches and jewellery worn by the owner, he said, regardless of their value and when they were purchased. Walker & Hall's Newmarket branch said about one in 10 customers used the service. At Aurum Fine Jewellery, about 80 per cent of customers exploited the loophole.
Customers saved "hundreds and into the thousands", with one customer making a discount of $10,000, said Aurum owner Colin Thomson.
But not all jewellers agreed with the practice.
"In Britain this would be tax evasion and you would be fined seriously for taking part in it," said 1791 Diamonds managing director Richard Praud.
COUPLE'S FREE TRIP TO FIJI
Newly-engaged Ingrid Dekker and Jim Wellacott had a free trip to Fiji with the saving they made on their engagement ring.
The pair recently returned from a four-day holiday to the islands using the $1500 they saved in GST by taking their $10,000 diamond ring through duty free.
"I was quite surprised with that loophole and she (Ingrid) was stoked she got a holiday," said Wellacott, 27.
The pair became engaged in November and Wellacott proposed with a "cheap bit of metal" so his fiancee could choose the ring of her dreams.
They first learned they could save 15 per cent in GST after approaching Gary de Witte Jewellery.
Staff told them they could save the money by taking the ring through duty free and out of the country, said Wellacott.
The couple settled on a platinum band with a princess-cut diamond, and realised the saving would fund a trip to Fiji.
"We thought we could get a free holiday because of it," said Wellacott. "It was just a bonus."
The couple plan to marry in Rarotonga in June next year.