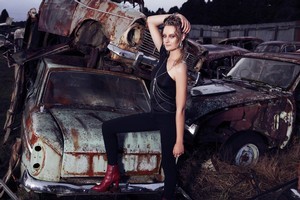 If you are picking a girl to represent New Zealand women, then you can't really do much better than one with healthy curves, who idolises sheep shearers.
Aroha, who comes from good sheep-rearing stock in Gisborne and topped this week's episode of New Zealand's Next Top Model, likes to get "down and dirty" but enjoys glamming-up to look "100 bucks" from time to time (she meant to say one million dollars). She may have produced just one decent photograph this week but it was also the one chosen by Auckland personality DJ Sir-Vere to be the cover of a hip-hop music album. Her 770 or so Facebook fans (that's more than any other contestant) will be so proud.
This week's field trip to sheep shearing capital of Te Kuiti wasn't the most glamorous of challenges in the series so far, though the girls did stay in the the Chateau Tongariro, which Rosanagh described as being "awesome because it was like really flash."
From there the princesses were whisked off to the set of Smash Palace, also known as a wreckers' yard, for the gritty album photoshoot.
Rapper Young Sid paid a visit, for no apparent reason other than to capture Rosanagh going all gaga over a boy again. Mission accomplished.
AJ tried to prove she was not a show pony but rather a slogan queen and Issy impressed herself, and judges, by talking her way towards $1000 worth of shopping vouchers and surviving without her BFF Yanna at her side. Arihana freaked out wept through the sheep shearing demonstration - the animals looked so scared, she quaked. But the judges didn't show much sympathy when the shock of it all put her off her game.
"There isn't time to take all the sheep to Servilles," said Colin. She escaped elimination, as did Amber, who was told for the fifth time that she needed to grow some attitude. Meanwhile it seems Tyne needs to lose hers or things are going to turn ugly. The girls' numbers are dwindling, but the model apartment is not big enough to hold their egos.
Still, young Briana, who drew this week's elimination card, would have preferred to be cooped up on Princes Wharf than at school where she must now return, perhaps to work on bringing warmth to her photographs.
What: New Zealand's Next Top Model
When and where: Friday, 7.30pm on TV3