With Bastille Day coming up, Danielle Wright takes a look at where to find a slice of France Downunder.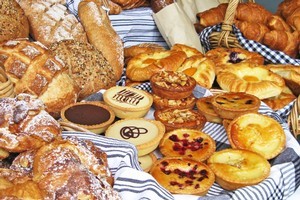 Like Independence Day in the US, Bastille Day is a celebration of a new form of government. French Kings and Queens used to lock people who didn't agree with their decisions in the Bastille, a prison in France.
On July 14, 1789, French citizens stormed the Bastille, and so began the French Revolution, allowing people to rule themselves and make their own decisions.
Ever since, on that day, the French have celebrated with fireworks and parades in most villages around the country.
I brushed up on my French to find the best of France right here in Auckland.
French lessons
While French isn't spoken as widely as some other languages, it's still a desirable language to learn. Once it was the political and intellectual lingua franca of Europe. It still holds a place in art and literature and is, of course, the language of love.
Adult classes can be taken at Alliance Francaise - choose from intensive conversation classes, private lessons or regular classes that are two hours, once a week for 10-week terms. Cost for regular classes is $320 per term, plus annual $60 membership charge.
Children's classes are also offered at Alliance Francaise and a July school holiday programme for children from 5-10 years of age is also available. Children will do art, craft, games and songs, all in French. The first week is about the body and the second is about the four seasons. The school holiday programme runs from July 18-29, 9am-3pm.
LCF Clubs offer classes in home environments. For very young children it's ideal, as they learn French by doing - baking a cake, playing French traffic lights on the back lawn and running to different rooms of the house when the teacher shouts things such as "la cuisine". LCF Clubs also has an online learning environment for in between lessons.
If you would prefer a lesson in your own home, More Than French can match you with a teacher. Owner Lauren put us together with a native French teacher who had also been a nanny, so an hour lesson for two children was a great break, allowing me to make the dinner, without the hassle of getting to and from a class.
Parnell's Euroasia Language Academy also offers a selection of adult and children's classes in a classroom environment or online.
Read about the language at the height of its influence in: When the World Spoke French by Marc Fumaroli.
Or go to ilovefrench.co.nz to see why everyone from Andrew Mehrtens to BNZ's chief economist Tony Alexander loves speaking French.
French playgroups
It's never too early to start your children learning another language and even the parents have to speak French, so playgroups are a good chance to keep your own conversational French alive, as well as helping your children to learn.
Les Petits Lascars (the Little Rascals) meets at Blockhouse Bay Playcentre every Tuesday and Thursday morning from 9.30am to 12.30pm, as well as one Sunday a month. It's $3 per family and is for those who already speak French well. It's just like any other playgroup, but entirely in French.
On the North Shore, Les P'tits Bouts meets at the Takapuna Playcentre every Friday from 3.30pm to 6pm to play, run, dance, sing, create and share ... in French. For more information contact Laurence on 021 997 664.
Richmond Road School also runs a French/English bilingual unit that caters for preschool, primary, intermediate and high school education.
For resources, buy online or set up a search on Trade Me for secondhand French items. There's also books, games, puzzles, activities, posters, readers and magazines in French available from the Resource Room. Hours are Monday to Friday 9.30am to 5pm. 330 Pt Chevalier Rd, ph (09) 846 0468.
Downloadable French colouring sheets, activities, recipes and games can also be found at petitestetes.com, which has a monthly e-newsletter.
Adult playgroups
French fun is not limited to the kids, there are sporting groups such as the Herne Bay or Kennedy Park petanque clubs or social groups through Auckland Accueil and Alliance Francaise - always with an element of eating and drinking, of course.
Alliance Francaise is the major player in the French community in Auckland. It has the biggest French library in Auckland and runs French lessons, as well a lot of cultural events promoting French culture.
Auckland Accueil is open to all Francophones and Francophiles of Auckland and is part of the International Federation of Home French and French Abroad (FIAF).
They meet for drinks every last Friday of the month, arrange gourmet nights and evening tarot readings, as well as bowling tournaments, tennis, day kayaking and climbing. Cultural activities in the Auckland region are also arranged.
French cinema
Alliance Francaise hosts a French cinema club once a month at the Bridgeway Cinema on a Monday night. The next event is on Monday 11 July and the film is Potiche (Trophy Wife), starring Catherine Deneuve and Gerard Depardieu in French farce ... with feeling. The cost is $14 for members of Alliance Francaise, and this includes a glass of French wine, cheese and bread.
Other cinemas to feature French films are the Rialto, Academy and Lido in Auckland, or borrow French DVDs from the well-stocked Alliance Francaise library.
French books
For a conversational French class with a literary bent, consider the Alliance Francaise book club, which meets once a month to discuss a 10-20 page extract of a French book. Discussions revolve around how the book reflects French society and what life was like in France when the book was written. It's conducted entirely in French and members are also given the chance to ask about grammar and language they don't understand in the text. It's free and new readers are welcome.
French music
Planet FM runs a French radio station each Sunday night called Amuse-Gueule. It covers cultural and sporting events, history, stories and interviews.
New Orchestra Practics is a cultural project between France and New Zealand. The principle of the orchestra is to play music with joysticks. Yes, the kind of joysticks from an old Atari game. Music theory is put to one side; everything is based on gesture.
You can become part of the orchestra on the closing night of the NZ International Film Festival at the Wintergarden under The Civic on 31 July.
Whether you like it or not, there's sure to be an "are they serious?" moment as people wearing black in headlamps create music with their old-school joysticks.
Marbecks in the Queens Arcade stocks a wide-range of French music from 60s pop to modern French artists. Store favourites include Carla Bruni (it's actually pretty good!) and a series called "So Frenchy, So Chic", which is a collection that comes out in time for the French Film Festival each year, featuring the best modern-day French artists of the previous 12 months.
French products
Pylones, editeur d'objets a Paris
277 Ponsonby Rd, ph (09) 360 8175. Open 9.30am-5.30pm weekdays, 10am-5pm Saturday and 11am-4pm Sunday.
If you have to do a chore, you might as well make it fun. That's the idea behind Pylones, in Ponsonby.
Each object has been hand-selected from Pylones and designers throughout the world to put a smile on your face.
Their philosophy is to make ordinary objects fun, like a wind-up salt and pepper shaker, which walks down the table to you, or the prince and princess dustpan and brush.
Akie French Jewellery & Accessories
36 Jervois Rd, Ponsonby, ph (09) 360 5477. Open 10am-6pm weekdays, 10am-4.30pm Saturday.
Tiny Eiffel Towers, romantic red roses and red velvet cushions welcome you to Genevieve Acquier's French jewellery and accessory store, Akie. She offers affordable, edgy, original creations with a sense of fun. The pieces are striking and one-off.
"In France, we like the finer things in life and don't compromise on quality," says Genevieve, whose pieces range from $30-$700, so there's something for everyone interested in quirky, colourful jewellery and accessories.
Mesamis Childrenswear
545 Mt Eden Rd, ph (09) 631 0012. Open 9.30am-5pm weekdays, 9.30am-3pm Saturday.
Only the French can mix stripes with florals in the brightest colours and still look good.
The childrenswear at Mt Eden's Mesamis, meaning "my friends", is fun, colourful and often reversible, so, although pricey, you can get two for the price of one if you're clever.
The range features brands such as Catimini, IKKS, Absorba, Confetti and Kenzo, for newborns to 16-year-olds. There's also a selection of pre-loved French childrenswear so you can shop for winter and summer clothing all year round.
Vive La Revolution!
Bastille Day Celebrations Around Auckland
Friday, July 15, from 7pm-midnight
Freemans Bay Community Hall: Celebrations will start with a show featuring typical French dances performed by La Bouree, Tahitian dance and more, followed by a ball. Food stalls will be open all night long, offering sweet and savoury cakes, crepes and cheese. The event is being organised by local French associations the Alliance Francaise, Auckland Accueil, Les Petits Lascars and Amuse-Gueule. Prices: early bird $14, door sales $20, free for children under 12. Tickets available from Alliance Francaise.
Saturday, July 16, 8am-noon
Pine Harbour Marina: Bastille Celebration at the Fresh Market. As well as the usual gourmet fare, this is an extra special market day with Pierre the Rooster, as well as free face painting for the kids - Chanel, Lacoste and LV logos for the littlest French fashionistas.
What does it mean to be French in New Zealand?
Lauren Walster from More Than French suggests: "Being French means being part of a long and rich history of conquests, battles, victories, defeats, revolutions... I love our need for complaining all the time, never wanting to settle for anything less than the best and the way we always say what we mean."
She once heard a Kiwi rugby fan talking about the All Blacks: "If we have to lose, we'd rather it was against France than any other country."
Genevieve Acquier, owner of Ponsonby's Akie Jewellery & Accessories store says:
"To be French is to be happy and enjoy the fun things in life.
"We live by the idea that we're here for a short time so we might as well enjoy it."