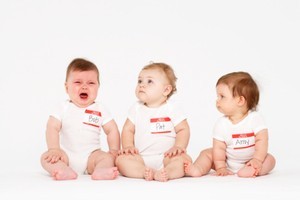 Quirky baby names may seem like all the celebrity rage, but they're not all that original.
The Genesreunited family history website has analysed more than 750 million records to reveal that the likes of Suri, Cruz and Apple have been in use for more than 150 years.
The names of David and Victoria Beckham's children have all appeared in the UK Censuses before.
The first Brooklyn was recorded in 1881, while Romeo (his brother's name) appears 294 times. The name of Tom Cruise and Katie Holmes' daughter Suri has appeared 67 times, while Nicole Kidman's daughter Sunday, whose name first appeared in 1837, shares her name with 305 others.
The head of genesreunited.co.nz, Vicki Dawson, said: "We have seen what was once an uncommon name, such as Daisy, slowly being incorporated into what we now see as traditional.
"Maybe in the future 'Cruz' or 'Suri' will be seen in this way."
The prize for the most "original" celebrity baby name goes to Fifi Trixibelle, daughter of Sir Bob Geldof and the late Paula Yates, which does not appear in any of the Census records.
It's thought Jamie Oliver and wife Jules have also reached rare unique status - they named their four children Poppy-Honey, Daisy-Boo, Petal-Blossom and Buddy-Bear.
Ms Dawson said the research found that 79 per cent of people prefer traditional names over unique ones.
In New Zealand there are still a few individuals who try for something different. Many will remember the young girl named Talula Does The Hula From Hawaii, who was placed under guardianship in 2008 until her name was changed.
The Registrar-General of Births, Deaths and Marriages, Brian Clarke, said then that the law did not allow names that would cause offence to a reasonable person, that are more than 100 characters or that include titles, military ranks, punctuation or numerals.
Names previously rejected in New Zealand also include Fish and Chips, Yeah Detroit, Stallion, Twisty Poi, Sex Fruit, Number 16 Bus Shelter and the first name compiled of texting lingo, O.crnia (Oceania).
The most popular names recorded in the UK were Mary for girls and John for boys, with more than 10 million Johns and eight million Marys.
NZ NAMES REJECTED

* Fish and Chips
* Yeah Detroit
* Stallion
* Twisty Poi
* Sex Fruit
* Number 16 Bus Shelter
* O.crnia