She changed the way women shop and has been dubbed the most important person in fashion - now she is making waves as CEO of British store Whistles. Viva talks to the inspirational Jane Shepherdson.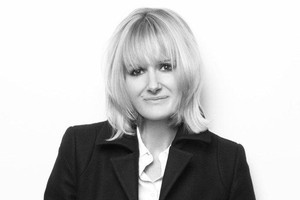 Jane Shepherdson is a transformer. As the brand manager of Topshop, she turned it into the icon of the British High Street, changing the way that modern women dress; now she is transforming another British store, Whistles.
Shepherdson took over in 2008, and relaunched it to become a brand of choice for women who like their fashion to be smart, classic and with subtle references to trends. She describes it as effortless fashion for contemporary women.
"It appeals to independent, discerning women, who want quality, fashionable clothes, but don't want to be slaves to fashion." Kate Middleton is one such discerning fan - she famously wore an ivory silk Whistles blouse in her engagement photos.
New Zealand women can now shop the brand too: Whistles.co.uk now ships to New Zealand.
You no doubt had plenty of offers from other brands wanting you to work with them after you left Topshop - what attracted you to Whistles?
I had loved Whistles when I was a student, but couldn't afford it then, so I always had a soft spot for it. I also thought that it was ripe for a makeover, and I like the market position that it occupied, which gave me an opportunity to work with more expensive fabrics.
You are all about retail, but what does your job as CEO entail - what would a typical day involve?
There is no typical day really, I meet with designers, journalists, fashion colleges and creatives to discuss ways in which we might work together. I travel to wherever there is anything exciting happening, and I also go to our factories regularly to make sure that they know exactly what Whistles is about. I meet with my board to debate strategy - where we need to be in three years time, and how are we going to get there, and most of all, I review the collection with the designer and product developers. We constantly review and edit the collection, and we make changes frequently, as we are always learning what our customers like and dislike. I also spend a lot of time talking to my marketing and PR dept about our social media strategy, or our new campaign. It's very varied, which I like.
Everyone, it seems, wants to be a buyer these days - what do you think makes a good one?
You need to have extremely good taste, and an eye for what other people will like, as well as being structured, able to create a range from a rail of garments. You also need great negotiation skills, and be relatively numerate.
Tell us about the Kate Middleton effect - after she wore that blouse for her engagement photo? Did it matter to you that she had worn it, or are you less interested in the "this celebrity wore this" aspect of fashion?
We don't actually target celebrities, but obviously we benefit from their endorsement of our brand, and the same is true of Kate Middleton. She has given us an international profile that we would never have achieved without her, and she has also shone a spotlight on British fashion, which is a very good thing. In terms of sales, the blouse sold very well, especially to customers from the US, Australia and New Zealand!
What can we expect from the current season collection? What are your favourite pieces?
We are now selling what we call "pre-fall", which is a transitional collection before we move into true autumn/winter, and it comprises some striking prints such as a leopard print on a silk crepe de chine in a blouse, dress and long pleated skirt, a large scale pink and black tweed effect again on a silk ground in a blouse and a dress. We also have some more colours of jeans coming in over the next week or so - a wonderful mustard, and a deep wine are my favourites.
How do you approach each season at Whistles - what is your buying/designing policy?
We start with a creative brainstorm by the designers, where they lock themselves away, and come up with the overall themes and mood of the season. From there they start to create little vignettes, or smaller capsule ranges, and on top of that they add the key items of the season. They see many print designers and buy the prints that will form the basis of the soft dresses and blouse ranges, and the colour palette develops from there. Then our product developers will start sourcing fabrics and factories to manufacture the styles, and produce samples.
We also have our own pattern room, where we can make the samples ourselves, if a piece is very complex. We then start to pull all the samples together, and fit them and review them time and time again until we are satisfied it is the perfect range.
The influence of the high street/middle market, and the "high-low" mix is pretty established now, even more so internationally with brands such as Whistles shipping to places like New Zealand. Where do you see the high street and more affordable fashion sitting in the scheme of fashion in 2011? And now that fashion is democratised, where do you see its future?
I think that the more affordable high street fashion will always have a place, especially as the global recession hits many countries. We cannot forget that Whistles clothes are expensive for many people, and that they can only afford it for special occasions, so they will still buy their work and casual clothes from the high street. I think there is a pressure on the high street to offer more than just price though, as it is a highly competitive arena.
What next for Whistles - will you continue designer collaborations like the one you did with [British designer] Roksanda Ilincic?
This season, we have collaborated with Freddy Willems, a Savile Row tailor, to help us to create an amazing tailoring range - it really is sensational - and is delivered in August. There is an ivory tux jacket with black lapels, and black cropped trousers, a mustard jacket and shorts, a navy and black tux, a wine coloured fitted jacket and trouser, and a stunning orange crombie, which is to die for.
What do you like to wear?
I love cropped trousers, Celine shoes, and silk shirts at the moment. I always love jeans, and have a cupboard full of them, from boyfriend, to skinny, in all colours and washes. I love all-in-ones, especially our Bianca crepe one, which I am wearing to a party this weekend, with a Holly Fulton bracelet - I imagine that I will look like Bianca Jagger, but know that I won't! I don't really wear dresses very often, as I am not keen on my legs...
What do you wear to work?
I wear cropped trousers, flat sandals or nude heels, silk shirts, or a neutral jacket, or skinny jeans with a jacket and high heels, or my long pleated skirt with a white shirt - just like Keira Knightley in fact.
Who are your favourite designers?
Miu Miu for tailoring, as it fits me well, and is contemporary, clean cut, and sharp. For shoes, Celine, Alexander Wang (this autumn, as a friend of mine designed them), Marni, Miu Miu and Prada for obvious reasons. I wonder if it is a coincidence that most of them are women? Obviously not.
What was the last item of clothing (or accessory) you bought?
The Holly Fulton bracelet.
Who is your ultimate "fashion plate"?
I think that Alexa Chung always looks great - she epitomises British style; laid back, slightly offbeat, feminine, and very sexy.
Do you shop online?
I do shop online, and apart from our site, which I find myself using when the shops have sold out of something that I want, I use Net-a-Porter, Shopbop, Browns fashion, Matches, and Opening Ceremony.
How do you define the word "fashionable"?
That's a hard one, I guess for me it's something that is as of the moment as it could be, and reflects or embodies what is going on culturally at the time ... like the mini skirt in the 60s, or flares in the 70s. I am very aware that fashion is seen as very different things in different countries, and even regionally within some countries. I sometimes think that I live in a London fashion bubble, which is unrepresentative of anywhere else.