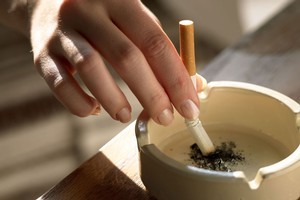 Researchers have issued a new caution over the use of Champix quit-smoking tablets after finding they are linked to a 72 per cent increased risk of heart attacks and related conditions.
The Ministry of Health said last week it would recheck the safety of Champix. This followed the instigation of reviews by medicines regulators in Canada and the United States.
Health Canada said there might be a "slightly increased risk of heart-related side-effects" in Champix patients with cardiovascular disease.
Smoking increases a person's risk of developing cardiovascular disease.
The Intensive Medicines Monitoring Programme at Otago University said it had received reports of changed heart rhythms and sudden death in users of Champix, whose active ingredient is varenicline. It had also received reports of heart attacks in 12 patients who appeared to have had no history of heart disease.
When Pharmac funded Champix last year, it estimated up to 8000 smokers a year would use it.
The new research, published today in the Canadian Medical Association Journal, was based on 14 trials involving 8200 patients. Most trials excluded people with a history of heart disease.
The researchers found a 72 per cent greater risk of "serious adverse cardiovascular events" - including heart attacks, strokes and changed heart rhythm - among tobacco users on Champix than among tobacco users on a placebo. Other research has linked Champix to depression, suicidal thoughts and other mental disorders.
Dr Sonal Singh and colleagues say in their paper that safety signals in the US about Champix and cardiovascular events in 2006 were not followed up by suitably powerful safety trials.
Until that happened, they said, clinicians should carefully balance the risk of serious cardiovascular and neuropsychiatric problems against the known benefits of the drug in helping people to quit smoking.
NZ National Heart Foundation medical director Dr Norman Sharpe said yesterday that he had seen the journal's latest Champix data, which added to a large body of information indicating concern about the drug.
"I would say it's a significant concern and something that needs to be followed closely."
However, a commentary in the journal by Dr J. Taylor Hays, of the Mayo Clinic in the US, said that although Champix users in the analysis were at a 72 per cent increased risk of serious cardiovascular problems, their absolute risk was small: just 1.06 per cent of the 4908 Champix users suffered these adverse events.
"The small absolute risk of cardiovascular events associated with taking varenicline is outweighed by the enormous benefit of reducing cardiovascular morbidity [sickness] and mortality that can be achieved with successful abstinence from smoking."