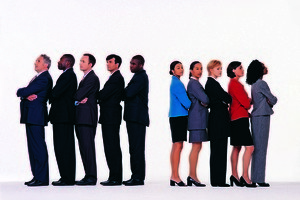 Both sexes should value each other's contribution, writes Valerie Grant, evolutionary psychologist and honorary senior lecturer in the Department of Psychological Medicine, University of Auckland.
Dear fellow New Zealanders.
Please could we all calm down and treat sex differences sensibly. Like it or not, people, the sexes are different, a fact the vast majority of us have had a great deal of pleasure from.
And sex differences are a fact.
Indeed sex must be one of the most researched topics in history.
When it comes to something like women's periods the facts are plain. Women can have period pain and men never do.
And here's another fact. There are wide individual differences. Not only do older women take less time off work, please note how the opposite pattern occurs in men.
Younger men (under 45) are likely to have far less regular sick leave than women in the same age group. And this is in spite of the fact that younger men, far more frequently than women, work outdoors in tough environments, in all weathers and for long hours in conditions few women even attempt - think commercial fishing, mining, road making and refuse-collection.
Even so these young men are less likely to go off sick. But when they do, the cause can often be more serious.
Younger men will sometimes need to take whole chunks of time off work because they've had an accident, which is because they are far more likely to take risks in driving, adventure sports and any physical enterprise.
But look what happens when everyone gets older. The pattern changes again. As a group, women over 50 are remarkably stable and healthy, whereas men begin to suffer at an increasingly high rate from heart disease, high blood pressure and other disorders. So the whole pattern of sick leave at work is reversed.
A few years ago the British Museum illustrated these facts with a display of medicines consumed over a lifetime by the two sexes. The women were prescribed far more medicines while they were still of reproductive age, but after age 50, men's consumption began to rise quite steeply and the women's to drop. The pills were all set out in colourful packages stretching over the display tables in long lines, for seven decades, leading from birth to death. Although the pattern of consumption varied greatly over a lifetime, by the end the two sexes had consumed about the same amounts of prescription medicines.
What about conscientiousness? Are women more conscientious than men? Are they more reliable employees? Yes, in many ways they are. This too has been documented. And, taken as a group, older women are usually among the most conscientious and reliable workers of all. They bring stability and experience to the workforce.
Men are less likely to follow the rules, more likely to skive off or take risks at work, both physically and financially. But here too we need to look more carefully at overall contributions. Men are also more likely to be innovative, to generate completely new ways of doing things, to discover new products and to refine old ones, taking the company to new heights with their bright new ideas.
So don't we need both sexes? And wouldn't it be nicer to appreciate the different skills and attributes that each of the two sexes brings to the workforce?
And here is a special message for Alasdair Thompson. Yes, some young women may have to take time off work with their periods. But this is not what keeps productivity low in New Zealand.
A more likely reason for low productivity is we New Zealanders seem to be forever sniping at one another about the existence of basic, biologically-based individual differences. Biological sex differences are deeply ingrained in us and have survived over evolutionary time because it was to everyone's advantage that they do. So why don't we quit arguing and value both sexes equally for their contributions?