Address: 274 Dominion Rd, Mt Eden
Ph: (09) 623 8233
Open: 7 days 11.30am-11pm.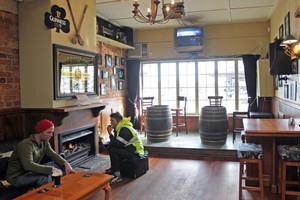 Whenever I walk into this pub I'm reminded that all the great bars I've ever drunk in didn't rest their reputations on looking flashy.
That's not a criticism of the Clare Inn on Dominion Rd, it's quite the opposite. It looks inviting without being too flash and those who drink there do so for the quality of the food and the beer rather than for trendy furniture and mood lighting.
The Clare is an Irish pub, but not an "Oirish" pub, if you know what I mean. It doesn't hide its heritage, but it doesn't ram the paddy-whackery down your throat, either.
This pub is about as Irish as it gets; it doesn't need to nail an accordion to the wall to prove it.
It's kind of an odd set-up, with a small bar and a warm and inviting dining room on the ground floor.
There is another bar upstairs and a pleasant deck to keep smokers happy.
But it's behind the bar that the Clare really leaves others for dead.
The predominantly Irish staff are uniformly excellent - they're chatty without being annoying; attentive with making you feel like you're being stalked.
The beer is well kept and there is a decent range; the wine list is excellent without being the length of a novel and the food is astonishingly good.
Although it's recognisably pub-oriented, the quality of the dishes is better than many restaurants I've eaten in and the prices are enough to make you want to celebrate with another bottle of wine. I can particularly recommend the duck breast and the beef Wellington, both of which are absolute star dishes.
The Guinness is the best I've tasted in Auckland, a tribute to the owner, who maintains the beer lines himself, ensuring a creamy pint with a great head and no sourness.
It's the combination of excellent service, a great product and a friendly atmosphere that proves a real winner and the proof of its success can be seen by how busy the place is, especially on weekends. It might pay to book in advance.
Scores
Service: 5/5
Drink: 4.5/5
Food: 5/5
Atmosphere: 5/5
Overall: 5/5