Be tempted by some more unusual vegetables, writes Grant Allen.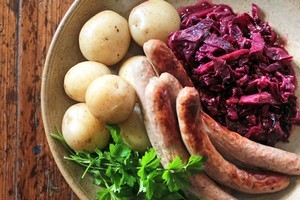 I doubt artist Hieronymous Bosch (1450-1516) had the kitchen or garden in mind when he painted his famous triptych The Garden of Earthly Delights. It was to serve as a graphic warning against the perils of life's temptations - Google it and you will see what I mean.
However, I have always loved this title and it seems apt to use on a collection of recipes using the garden's more unusual vegetables.
The Jerusalem artichoke (actually a member of the sunflower family) and celeriac would hardly entice you by their appearance but you will be charmed by their flavour.
Jerusalem artichokes need to be thoroughly scrubbed. Celeriac needs to be peeled using a knife. Both of these will turn brown once cut - put them into a bowl of water with some lemon juice until you are ready to use them.
Both can be used for soups, stews or roasting. Both make delicious purees to serve as a side vegetable.
Fennel bulb needs to be trimmed. Used raw and finely sliced, it's distinctive aniseed taste lifts a salad. In Italy, larger slices are served in a bowl of iced water as a crunchy digestive after dinner.
Red cabbage, once shredded, should also be soaked in some cold water. This will reduce the amount of colour that bleeds from it, staining other ingredients and turning everything pink.
Apart from the cabbage you may not easily find the others on your supermarket shelves - yet. You will find them at farmers' markets. I bought the vegetables from The Art of Produce in Grey Lynn, which is a vegetable wholesaler to restaurants and also open to the public, ph 09 360 5262. Be tempted by these earthly delights and hunt them down.
Braised red cabbage
1. Shred half a red cabbage, discarding any tough pieces. Finely chop 2 red onions, scoop out the flesh from 12 tamarillos, grate some fresh ginger and deseed a red chili.
2. Place in a casserole or baking dish with 1 cup of brown sugar, a cup of red wine vinegar, the juice of 2 oranges and 2 tsp of salt.
3. Cover with foil and bake for 1 hour in a moderate oven, remove the foil and bake for half an hour more. If the mix is still too wet, strain off some of the liquid and reduce it by boiling. This dish should not be too sloppy. Check the seasoning - you may want to sharpen it up with a squeeze of lemon or lime.
Potato and fennel gratin
A classic potato gratin is enhanced by the addition of fennel bulb.
1. Peel and slice 4 medium potatoes and slice a fennel bulb into slivers. Put into cold water, drain and pat dry.
2. Heat a cup of milk and a cup of cream to simmering, adding some crushed garlic, cracked pepper and salt.
3. Layer the sliced vegetables in a baking dish and pour over the milk/cream mix.
4. Cover with foil and bake in a moderate oven for half an hour. 5) Remove the foil and allow to finish cooking till tender and the top has browned
Maori Potatoes
These hierloom vegetables are becoming more available as commercial growing increases. Urenika has a dramatic purple colour on the plate - we used it in the mussel salad a few columns ago. These different varieties give you a change from your usual spud. Next to Urenika is the Moe Moe then Huakaoro. Eat all with skins scrubbed but unpeeled. To prepare, steam or boil them.
* Grant Allen has been a professional cook for 30 years. He works as a caterer in Auckland. Find him on Facebook.