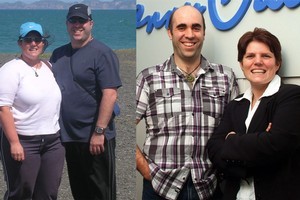 Meat pies, sausage rolls, hot chips and chocolate. A British couple who put on more than 50kg after moving here say New Zealand made them fat.
Britain is considered to be in the grip of an obesity epidemic, but Tracey Blunn and Mark Reyef say it has nothing on the land of milk, honey and pavlova.
The couple moved from Birmingham to Rotorua in 2007. Three years later, each tipped the scales at more than 105kg.
It was when they were turned away from a fertility clinic that they realised just how overweight they were.
"The nurse took one look at me and said, 'But you're overweight. That's why you can't conceive'," Blunn said.
Excess weight is considered the leading cause of infertility in New Zealand and Blunn was a size 22. "It was an eye-opener. She just told me I was too fat - I couldn't believe it."
Blunn had considered herself fit and healthy, despite chowing down on pies, chips, chocolate bars, soft drink and countless cups of coffee every day.
"Our portion sizes were huge, too," she said. "I was cooking enough chips and meat for a family but just the two of us would eat it. It really started when we moved to New Zealand. Food tastes better here, it's so much more tempting."
The couple began eating fewer pies and more salads, signed up to Jenny Craig and started cycling.
Blunn said she was shocked at how little food she was allowed when she collected her meals for the first time.
"I thought I was going to starve."
Smaller goals with non-food rewards kept them on track, including going Zorbing once they got to 90kg. "We were too fat to get through the hole before," Blunn said.
Each shifted 30kg in a year. "I've got an hour-glass figure now - before I was just round," Blunn said. "I'm so embarrassed by old photos."
Now 75kg and a healthy size 12, she said the biggest surprise was that eating healthy was not as expensive as it seemed initially.
"It's all about balance. My workmates see me having a pie and think I've fallen off the wagon. But I could have a pie every day if I wanted to."
They have switched from white to wholegrain bread, are buying small cuts of higher-quality meat and use herbs and seasoning to give food more flavour. The couple also started a vegetable garden and bought two hens.
But Blunn said the biggest saving was the result of eating much less food - they now spend about a third less on food each week. "The most expensive thing has been replacing our wardrobe." They are trying to conceive naturally, too.
Kiwi faves full of fat
Real Nutrition's Jackie Dale on Kiwi kai.
Meat Pie: "I've heard in New Zealand we have more pie shops than churches and schools. I'm not anti-pies, but if you eat them all the time you're going to get fat."
Battered hot dogs: "Gross. Sausages aren't a food, they're scraps off the butcher's floor. I wouldn't recommend anyone eat them. Then they're deep fried, it's a big no-no."
Pavlova: "I see pavlova as something you eat on Christmas Day. It's extremely high in sugar."
Hot chips: "They are deep fried, high in salt and take you away from fruit and veges. It depends on your overall diet and how much you're moving around."