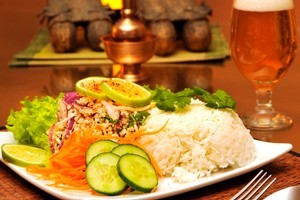 In Thai culture every day of the week has its own Buddha - Saturday's is Paang Naga Prok, typically depicted sitting on a coiled serpent, which is said to have protected him from a raging storm while he meditated.
Thai Culture NZ co-ordinator Greg Campbell, who prepared the dish below, says a good larp gai delivers a delicious tang with a small kick of chilli. The ground rice is key to the crunch of the dish.
Larp Gai (Thai Lime Chicken Salad)
470g minced chicken
water
3 Tbs ground rice granules
4 Tbs lime juice
3 Tbs fish sauce
2 Tbs chopped coriander
1 Tbs chopped lemongrass
1 Tbs chopped mint leaves
1 tsp ground dry chilli
1/2 red onion, chopped
1. Place minced chicken and two cups of water in a pot on medium heat.
2. When steam appears, stir, maintaining two cups of water while chicken poaches.
Once the chicken is fully cooked, drain all but 1/4 cup of the water.
3. For ground rice, gently brown rice in a frying pan then grind to a powder with a mortar and pestle.
4. Once the chicken has cooled add all remaining ingredients, stirring constantly.
5. Taste as you go to get the right degree of spice. Serve with jasmine rice and cut limes.
* Thai Culture NZ will share Thai culture in Auckland Museum's Saturday event series River Lives: Stories from the World's Greatest Rivers today from 11am-2pm.