Warm up for winter with fail-safe shades.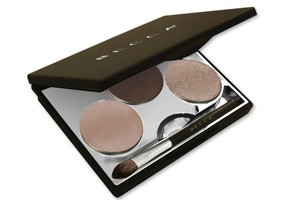 Bronzing is a word we associate with summer, but in beauty speak it has all-year appeal. This winter, more than usual, burnished browns are lending a warm appeal to makeup, from palest gold, through coppery tones to rich russet shades.
Gentle metallics can add a subtle gleam, but avoid anything too brassy. Chocolaty tones are particularly appetising. Think tan, caramel and chocolate on the eyes with dusty pink or peach cheeks, nude lips and a lightly warmed complexion.
Do not be confused by companies trotting out northern hemisphere summer cosmetics collections during our southern winter. You're not after a heavy duty bronzer or tropical fruit salad shades right now. Just dust the cheeks delicately and keep the chill at bay.
As with winter dressing, the secret to wearing similarly toned shades well is in the layering. Gain depth by using gloss over a moisturising lipstick, build cheek colour with creamy blush and add illumination over a flawless base.
1. Shiseido Luminizing Lip Gloss No BE201 $50
The moist, non-sticky feel of this pale sandy nude gloss makes it a wearable foil for intense eyes.
2. Stila Silk Shimmer Luxe Gloss in Sunlight $50
A really reflective bold bronze gloss with staying power and a pronounced caramel fragrance. I've seldom seen shinier than Stila. Contains silk powder for smoothness and tiny pearl particles for shine, plus plant oils to condition.
3. Smashbox Jetset Waterproof Eyeliner in Bronze $54
For a precision outline, gel is easier to apply than liquid. This one is blendable for 60 seconds, then stays put on the inner or outer lash line.
4. Chanel Precision Eye Definer in Brun-Cuivre $50
For women who prefer a crayon-style eyeliner, this soft pencil in a metallic brown has the bonus of a smudger at one end. If the kids are tempted to snaffle the accompanying sharpener to use on their Smiggle, then the Chanel logo on the side should function as an Adults Only sticker.
5. M.A.C Magically Cool Liquid Powder in Golden Bronze $68
Light as a feather powder adds luminosity with a cooling effect. Get carried away buffing and you'll look like the painted lady from Goldfinger, but go gently and it's a treasure. Honey Rose offers a lighter, multi-dimensional shimmer.
6. Revlon Metallic Nail Enamel in Copper Penny $16.50
Warm gold shade with a good gleam, coats more evenly than some metallics.
7. Napoleon Perdis Blush Patrol $67
Get a sun-kissed look with this swirled baked powder.
8. Becca Lost Weekend palette $99
Colours called chino, moleskin and moire speak of textured appeal, so layer up these velvet matte and soft shimmer shadows.
9. Essie Nail Lacquer in Little Brown Dress $24.50
Dark takes on new dimensions in this cocoa bean colour, which is kinder against ageing skin than black or blue.
Stockists: Brand counters or as stated. Napoleon Perdis and Essie selected Farmers, Essie some salons also. Stila and Nars from Mecca Cosmetica, Ponsonby and Newmarket. Becca from Glamorpuss, Newmarket and The Department Store, Takapuna. Smashbox from Ponsonby Rd store, selected Life pharmacies. M.A.C St Lukes, Chancery and Smith & Caughey's.