Fine food, wine, music and fashion will come together next week in a series of talks set to gourmet meals surrounded by art.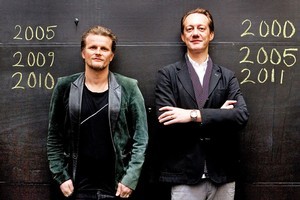 There are certain years that shape our lives, standing out from the rest as being especially formative or important - whether it be a year of travel, of new beginnings or of goals being achieved.
Cloudy Bay wines is set to celebrate these good years with a very special "tasting exhibition", where three innovative, creative and stylish New Zealanders will share the stories behind their most defining years (or "defining vintage").
Held in the Starkwhite gallery space in Auckland, each speaker's journey will be matched with delicious food and Cloudy Bay wines for an evening of inspiring stories, food and wine. Viva looks at what inspires each of the speakers, and finds out a little more about their defining years.
Dan Gosling is a busy man with a number of fingers in various fashion pies, from design to importing to retail - each having an undeniable influence on the New Zealand fashion landscape.
Unsurprisingly, several of his defining years involve fashion. In 2005 he established Stem, a fashion distribution company that imports brands like Ksubi, One Teaspoon and Insight into New Zealand; while in 2009 he opened his first Black Box Boutique store in Auckland - something that happened almost by accident after discovering the perfect space. The following year, Gosling opened a second Black Box Boutique inside The Department Store.
"I was trying to create a retail environment that was inspiring and had a great range of clothes and brands - I tried to make the mix half men, half women, as there wasn't much of an offering in the market for men to buy great clothes."
Creating spaces has been key to some of Gosling's best years - an interest sparked by his family. "My dad showed me that you don't have to have a corporate job to succeed - he also had an interest in architecture. Now I am totally obsessed with creating spaces and, soon hopefully, houses."
Nathan Haines began his foray into the world of music learning the recorder from his father at the age of 4, and has since gone on to become one of New Zealand's key musical players with his unique mix of jazz, modern soul and electronic music.
He names 2005 as a defining year in his career and life, a year which saw a dream come true: the scariest experience of his life, performing with and recording the album Life Time with the New Zealand Symphony Orchestra. This followed a stint living in London, where his relationship with fashion designer and model Jaimie Webster developed - they married earlier this year, another defining moment in Haines' life.
Throughout these years, Haines has looked to and been inspired by the works of philosopher Lao Tzu and Sufi poet Rumi, helping him to find his own inner compass and morality.
"There's nothing like making your own wrong decisions and mistakes, and learning from them."
Cloudy Bay's estate director Ian Morden's childhood years in South Africa helped influence his future fascination with wine and good food, with his father's restaurant and wine shop exposing him to interesting food.
Nowadays he says he will always head to the markets whenever he visits a new country, "to experience the new culture through its food".
This background didn't automatically steer him in the direction of wine, however; Morden trained and worked as a commercial lawyer for some time, before establishing a digital media business. But his passion for the "sociability and sensuality of wine" continued.
"I really only started to appreciate wine seriously at university about 20 years ago and when I started working I was able to afford more interesting wines and to build on my understanding of it," he explains.
He took a job at Lion Nathan, and joined Cloudy Bay in 2009, where his role requires him to translate creativity into commerce. Defining years for the iconic brand involve the launch of their sparkling wine and their first pinot noir, but Morden counts the launch of the pioneering Te Koko sauvignon blanc in 1996 as especially influential.
"Its creation and launch showed a self-confidence in where we had arrived at - that we could invert the paradigm of making sauvignon blanc in the New World, successfully".
So what makes specific years especially special?
"I think that a memorable year is a year when faced with a fork in the road in life," explains Morden.
"You make a choice and then, having followed that chosen path, you are able to take on a new perspective or to create new possibilities you could never have imagined before."
Find out more behind these stories at the Cloudy Bay Define Your Vintage events next week, July 5-7, at Starkwhite Gallery, Auckland. R18. Tickets $45 per person from the site.
VIP Viva
We have a very special Cloudy Bay Define Your Vintage pack, worth $1000, to give away to one lucky Viva reader. It includes:
* Two tickets to Define your Vintage on Thursday July 7
* A $200 gift voucher from Black Box Boutique
* A tasting case of Cloudy Bay Te Koko and Pelorus wines, worth $550
* A Nathan Haines signed back catalogue pack including his latest album, Heaven and Earth, Right Now, Sound Travels and Squire For Hire. To enter, send your name, address, phone number and date of birth to vipviva@nzherald.co.nz with "Cloudy Bay" in the subject line. Entries close July 3, winner notified July 4. R18, one entry per person.