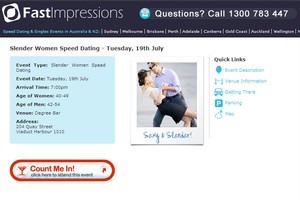 A speed dating event advertising a night for "slender" women sized 6 to 10 has been slammed by one woman who was invited to attend.
Fast Impressions, an Australian-based company, is holding its first Auckland Slender Women Speed Dating event at Degree Bar on July 19.
The event is for "ladies sized 6 to 10, who identify with a 'fit and trim' body type and for men who love a slender woman," said the company's website.
Men do not have to meet size criteria to attend.
Former speed dater Lea Devereux, who received an invitation, was disgusted and labelled the size requirements discriminatory.
"It's right in your face, saying if you're not slim then you can't come. You look at it and say that's wrong."
Leonie Morris, Auckland Women's Centre manager, was "gobsmacked" and had never heard of a similar case.
"When they say slender, they mean very slim. This emphasis on size is damaging to women. There's considerable research that says pressure on women to be slim harms women's self- esteem."
But First Impressions said it ran a number of "niche" events - including Tall Men Speed Dating, University Educated Speed Dating, Fit and Healthy Speed Dating and European Men Speed Dating.
The Slender Women event is popular around Australia, said Annabelle Parfitt, First Impressions operations manager.
"We set up on the basis of demand ... We host it in any city that we have demand. It's not skinny speed dating. It's for men who love a healthy lifestyle."
There were high match rates and it was often women who bought all the spaces first, she said. So far an equal number of men and women had signed up for the Auckland debut.
It was just one of many "preference events" gaining popularity around New Zealand, she said.
A database was used to send out targeted invites.
Ms Parfitt insisted it was "absolutely" legal to advertise with such specific criteria for the company's events.