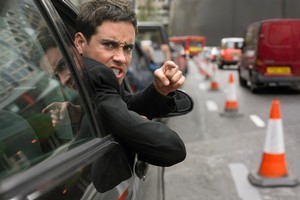 Every morning after I drop Mia off at daycare I stand at the bus stop and wait for my ride into town. The stop is just down the road from a school, across the road from the daycare, 50m from a traffic light-controlled crossing, and there are two side roads feeding in as well. It is action-packed craziness - and from my vantage point I see many close calls and hot-headed road ragers.
Chaos outside the school gate is nothing new, but on a busy road like this one in Herne Bay, it's quite something.
Just this week a man in one of those 4WD urban tractors got held up behind a woman who was turning right from the middle of the road, which she was quite within her rights to do.
This guy was tapping his steering wheel, muttering to himself, and finally swerved out from behind her, and as he went by yelled, "F****** bitch". She wasn't an F-ing anything actually, she was just a nice lady who was dropping her kids off at Mia's creche.
Also this week, another urban tractor was speeding up the side road, and instead of slowing down for the kids in the walking bus - who were still half way across the road - he swerved around them and lurched to a stop at the intersection before bullying his way out onto the main drag.
Honestly, some mornings it's as if "baby on board" signs are a target rather than a polite warning sign. And the poor school kids on the walking bus are fair game to these nutters.
My wife and I used to hoon around in our cars, and hey, I admit to a bit of road rage in my time. However, after having kids - and not to sound righteous and superior or anything - it's as if we've both been reborn as devout safety-conscious drivers.
It sure takes longer to drive down to see the grandparents in New Plymouth or Hawkes Bay these days - and that's not just because we have to have more toilet stops than before.
Around town too, we drive more slowly, take corners more carefully, and approach intersections cautiously with the kids in the car - and because of this more defensive approach we are the target of tailgaters.
Even before we had children we had a scary run in with a tailgater. He was right up our bum on Richmond Rd in Ponsonby, when the way was clear he sped by, and we - stupidly in hindsight - both gave him the birdy.
He slowed down to a crawl, we turned off into our street, and he raced off around the block and doubled back to confront us.
He got out of his car, swearing at my wife, then turning on me. Luckily it was only a verbal attack and he soon got back in his car and screeched off when he couldn't get a rise out of us.
The thing is, he had an infant in a baby capsule strapped in the front seat. Oh what a shining example he was.