Essential to every traveller, the convenience is now an artform in some enterprising towns.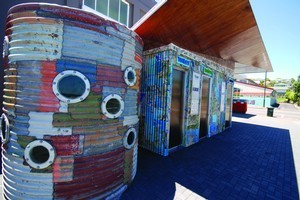 1. Helensville
Creek Lane (beside Unichem Pharmacy), Commercial Rd
The newest in a growing trend, these loos are by local sculptor Jeff Thomson, using his favourite corrugated iron. The exterior artwork reflects the district's relationship with the Kaipara river and harbour.The portholes let people peer inside the tank to see the historic shipwrecks that foundered on the treacherous Kaipara Bar. Sustainable too, it has a rainwater tank.
2. Kawakawa
State Highway 1, Bay of Islands
The loos that inspired all the others. Austrian architect and artist Friedensreich Hundertwasser stared the trend in 1997 with his eyecatching pottery columns, smashed tile mosaics and bottle walls, topped off by a grass roof. The Gaudi-esque colours and curves have inspired a mini-trend for some enterprising shops and cafes along this tiny main street.
3. Matakana
Intersection of Matakana, Leigh and Matakana Valley Roads
After much controversy, local art student Steffan de Haan won the competition to design these toilets, finally installed in 2009. The arched rooms evoke the area's boats and boat-building history, many local artists and contractors contributed their time and skills.
At a cost of about $400,000 these are worth lingering in.
4. Tirau
State Highway 1, north Waikato
The Tirau community has claimed corrugated-iron art as it's own, with local artist Steven Clothier creating the information centre's famous giant sheep and, later, dog (officially opened in late 1998). The loos reflect the town's position in the heartland of the rich Waikato farming territory.
Have we missed out your favourite?
Email us at life@nzherald.co.nz