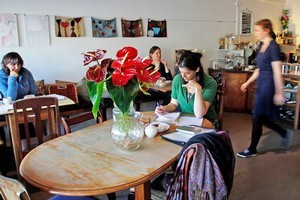 In an unassuming area of Mt Albert lies the quaint, vintage-style cafe, Cosset. The feeling as you walk through the door is one of cosiness and familiarity, like you are walking into a moment of your past - it works and it works well. The cafe has an antique fitout and also a warmth that could encourage you to sit down and read from open till close - unfortunately I think a lot of people had the same idea as the cafe filled up pretty quickly.
My flat white was a pleasant experience; it matched the environment with its subtle smooth taste, rich body and, if one were looking for it, a hint of cranberry-like fruitiness. This was complemented nicely by well textured, good temperature milk, creating an overall great cup. In the espresso I distinguished more attractive notes of lime citrus and enjoyable berry sweetness with a malt-like mouthfeel throughout. It was rewarding to see good espresso-based coffee delivered in a place that you wouldn't generally expect to find it.
It's nice to see places creating individual environments while also producing great coffee. To me there is an integral link between the two, which is incremental in turning a "trip for coffee" into a worthwhile experience.
Cosset: 1087 New North Road, Mt Albert, 09 846 0655. Trading Hours: M 7-5, T N/A, W 7-5, Th F Sat 7-10, Sun 8 6. Managers: Kellie Gray, Rohan Packard
Coffee: Kokako
* Hans Pronk is a top Auckland barista who owns ME Coffee Boutique in Albert St and roasting company Merito Espresso.