Address: 9 Britomart Place
Phone: (09) 309 0961
Website: lassiette.co.nz
Open: Dinner Wed-Fri (Mon-Sun breakfast & lunch)
Cuisine: French
Rating: 7/10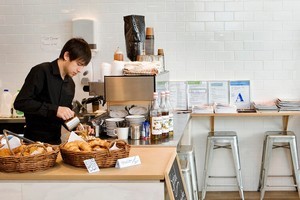 Fine dining is all very well but sometimes a simple bistro meal is all that's desired.
To operate a cafe or basic bistro in central Paris you're up against it from the start with some of the world's priciest rent. I suspect the rental in the new Britomart precinct is not the cheapest in this town either, so it's a smart move for the owners of daytime eatery L'Assiette, Romain Le Gal and Natalie Markhan, to extend their hours to include a dinner service three nights a week - may as well spread the overheads.
L'Assiette has already gained a reputation for offering great French-style breakfasts and lunches. Aesthetically it's very cute, with colourful painted chairs and a whimsical wall mural done in typically quirky French style, though my first impression on arriving is that the lights and music could be turned down to complete the transformation from bustling daytime eatery to casual evening dining. But these are small notes outweighed by the warm welcome we receive from Romain, who has us seated and sipping glasses of Cotes du Rhone red before we know it.
The blackboard dinner menu offers a choice of two specials for entree, main and dessert and these rotate on a weekly basis. The two entrees on offer on the night we visit are a soup and a tart. How very French. The soup is kumara and bacon and the tart, a pissaladiere.
The soup arrives and possesses far more finesse than we have been expecting. It is perfectly pale and creamy, yet not too thick, and garnished simply with a drizzle of olive oil and grind of black pepper. The flavour is lively and delicate - again not what I'd have expected from two big hitters like kumara and bacon, but the subtlety is welcome.
The tart is reminiscent of those you find in so many of the cafes in France. The onions have been slow cooked with just the right amount of patience - they are sweet and translucent with no hint of the bitterness over-browning can bring. Each tart has been individually cooked and topped with a couple of strong anchovies and is accompanied by a rainbow of grilled and roasted vegetables. A small niggle is that the pastry base wasn't given slightly longer in the oven to ensure the bottom is cooked through.
The mains present a slight conundrum. Neither of them scream "classic French" and, though I appreciate the wider influences of surrounding countries on France's cuisine, I couldn't help thinking that to offer a goulash and tagine on the same night in a French restaurant is nonsensical.
When I make inquiries I am told that beef bourguignon and chicken in tarragon cream sauce do feature on the rotating menu so perhaps our night is an anomaly. In saying so, I have no complaints for my goulash - it is divine. Served in individual, lidded casserole dishes with a side of smashed potatoes, it is richly flavoured with the sweetness of carrots and plenty of onion and the beef is fall-apart tender.
The other main, a gurnard tagine, is also perfectly adequate, with gurnard a good, firm choice for this dish. Served on couscous with plenty of soft braised eggplant and a hint of Moroccan spices, it is a tasty option. This is simple fare, served sans additional garnishes or sides, and though at first the meals don't seem overly generous, we are not left hungry, and at $20 they represent good value.
By the time we roll around to dessert the creme brulee is all sold out so we settle for the tarte tatin and a puff pastry cream. L'Assiette's tarte tatin glistens with a caramel sauce that permeates the apple beautifully and comes with a good quality vanilla bean ice cream.
The puff pastry dessert is a fanciful creation with the grilled, honeyed pineapple adding a warm, tropical touch and the sweetened, softly whipped cream a cloud of naughtiness. I loved it.
So is it a bistro or is it a cafe? Who knows, but there's a comfort and familiarity about L'Assiette that makes it a great standby option for a casual, unhurried supper that's affordable enough to make a habit of.
Bon appetit!
From the menu: Pissaladiere (onion & anchovy tart), kumara & bacon soup, beef goulash, fish tagine, tarte tatin, puff pastry creams, $32 for two courses, $40 for three course.
Drinks: Beer, wine and cider.