Matt Arbuckle's new gallery aims to support and showcase young artists.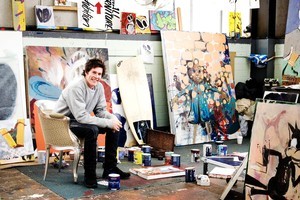 Painter Matt Arbuckle is behind one of Auckland's newest galleries, Ninety Gallery in the city's Rhubarb Lane. The up-and-coming artist, named as first runner-up of the prestigious Wallace Art Awards in 2009, launched the gallery last month with a solo exhibition of neo-expressionistic style paintings - and hopes the space will be about supporting and showcasing "ambitious young artists at a pivotal stage in their careers". A second exhibition called Show Me, Don't Tell Me opens in the space today, with work from Arbuckle, Pete Malone and Hadley Hodgkinson.
10 FAVOURITE THINGS
1. Art studio
I am lucky to share my studio with some highly talented and prolific artists including Tim Webber, Bobby Hung, Ross Lewis, Tanja Jade, Kairau Bradley, Askew and Olivia Laita. Everyone holds down a crazy vibe in the space and there is always something new going on.
2. St. Heliers Lighthouse
The St Heliers lighthouse/lead light has been my local hangout for more than 10 years. An after-work jump never gets old and last summer I managed to get a couch up there for a few lazy drinks, the video is worth a watch.
3. Ninety Gallery
This new space is my latest project, and will showcase a constant line-up of ambitious young artists at a pivotal stage in their career. The gallery brings a new element to the already growing creative hub.
4. Style Wars
Style Wars is a film from the 1980s which is regarded by many as the definitive document of the emerging hip-hop culture. A documentation of when New York's urban landscape was physically transformed by graffiti artists who invented a new visual language. I have watched this more times than any other film and it still remains a huge inspiration to me.
5. My world map
On a recent trip through Europe I caught up with a mate who lives in London. Our decisions on where to go next were very last minute and dictated by a world map on his wall. Pinning out a trip through Europe on the map made conquering the world so realistic. As soon as I got home I bought one and put it up on the wall, gearing up for the next trip.
6. Hand-made silver ring
When I'm not busy painting I enjoy making silver rings and necklaces. I often go to second-hand shops and buy jewellery, then take it apart and make new configurations. One of the first silver rings I ever made is still the one piece of jewellery I wear everyday.
7. Kairau Bradley painting
One of the coolest birthday presents I have been given was a painting from Kairau Bradley for my 21st birthday. I recently went to Kairau's solo show and his work is always developing to the next level. A talented illustrator and painter, he is someone to keep an eye on.
8. Beautiful Losers
I discovered this book at high school. It became a bit of a bible of inspiration over the years. It's about a collective of like-minded mates who were influenced by skateboarding, graffiti, street fashion and music. Late last year I painted at Art Basel/Primary Flight in Miami. Legends like Shepard Fairey and Barry McGee, who feature in this book, painted at the event and I was lucky enough to see these works in real life.
9. My first water ski
I still have one of the mini water skis I learned on, and my brother has the other. The wooden ski is covered in a classic early 90s graphic, and built for speed and tricks - it is only about a metre long. It reminds me of countless family holidays down at Lake Rotoiti on Dad's boat.
10. Canon Super 8
I am always on the hunt for old cameras that still work. I think the quality of film still holds its own over digital. I often go to the markets on a Sunday and rummage for a deal. Part of the fun is coming away with a good cash price hustle. A good find was this Canon Super 8 video camera.