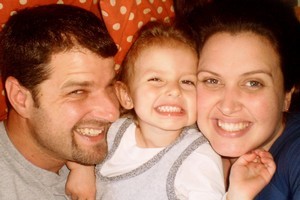 New Zealand mothers have questioned Australian research which says the "perfect age" for women to start a family is 29.
The Australian Health Department released figures which show that 59 per cent of women felt they were best placed to procreate when they were 29.
The research found that women decided that was the age when they were most secure both financially and in their relationships.
Michelle Elkayem, who lives in Christchurch, was 30 when she had her first child and said she was glad she waited.
Her daughter, Kyla, is now 2 and Mrs Elkayem is 6 months pregnant with a boy.
Originally from Florida, Mrs Elkayem met her husband there when she was 21.
She said the couple wanted to wait until they had travelled and "been young for a while" before they settled down.
"We wanted to stay young longer and we didn't rush into anything ... we had a lot of life experiences first."
However, waiting until she was 30 did give the couple some problems.
"The only problem was that if we'd done it a few years earlier, we wouldn't have been set in our ways. I think because we did have so much time as a couple, it meant that we struggled a bit to adapt to having a child."
Mums on Top director Marilynn McLachlan posted a comment on the support group's Facebook page asking what mothers thought the perfect age was to start a family.
"It seems to be life stage, rather than age stage. We've got responses from young mums to mums in their 30s and they're all saying that they're happy with the age they chose and they wouldn't take it back," she said.
Mrs McLachlan was 22 when she had her first child and although she did not go on an OE, she said she was glad she chose that age because it was much easier on her body. "When you're that young your body bounces back ... but I really don't think there is a perfect age to start having kids."
Kiwi Families' director Rochelle Gribble said there would always be complications with having children, no matter what age women started a family.
"If you have children later, you're more established in your career but it's difficult to then maintain that. But if you're younger [when you start having children], it's harder to get back into the workforce."