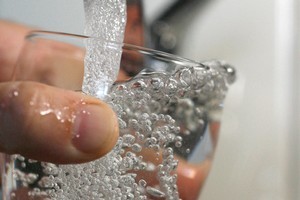 The extortionate sums charged for Perrier and San Pellegrino are a frequent complaint of restaurant-goers.
Now one leading Sydney eatery has abandoned bottled water - but is charging diners A$5 ($6.50) per head for the stuff that comes out of the tap.
Naturally, this is no ordinary tap water; it has been filtrated, chilled and carbonated in a A$6000 Italian machine.
And Mark Best, owner and chef of the multi-award-winning Marque restaurant, makes no apologies for serving it, saying the move is based on "environmental concerns".
Best, who charges A$150 for an 11-course degustation menu that includes foie gras with apple and cinnamon and pickled calamari with ink, wakame and caper water, used to sell French mineral water, he told the Sydney Morning Herald.
Unhappy about it being freighted across the world, he switched to Tasmanian water, "I guess to assuage environmental guilt, but eventually that wasn't enough".
While travelling in the United States, he noticed some of the leading restaurants serving tap water that had been filtered, chilled and carbonated.
"I just thought, 'hello, here's the answer'. So we came back and researched, and I think we are the first restaurant [in Australia] to do it."
On its website, Marque - which was named one of the world's 50 best restaurants last year, in an award sponsored, ironically, by San Pellegrino - informs customers that "due to environmental concerns Marque Restaurant no longer uses bottled mineral water. To support this initiative A$5 will be added to every bill".
Best told the Sydney Morning Herald the treated water was "absolutely beautiful", adding: "I see it as a service to our customers."
But he said that anyone who objected to paying A$5 would not be charged.
According to the Office of Liquor, Gaming and Racing, Australian licensed premises are required to supply free tap water when requested. But a spokesman said it was probably legitimate to charge for treated water.