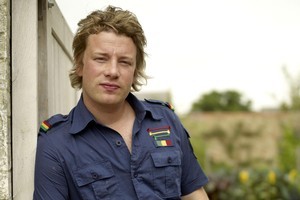 They can take away his television series, but they'll never take Jamie Oliver's freedom to do what he does best: attempting to cajole and shame the world's fattest nation into slowing the flow of junk-food into the stomachs of its schoolchildren.
After a rocky few months, in which the Los Angeles version of Jamie Oliver's Food Revolution was temporarily pulled from the airwaves because of falling viewership, the British chef has achieved one of his key aims: persuading America's largest school board to remove chocolate and strawberry-flavoured milk from its canteen menus.
The LA Unified School District, which serves 650,000 meals a day at 1000 sites, announced the move as part of an overhaul of menus that board members claim will turn it into a national leader in child nutrition. As well as banning the cartons of flavoured milk, which are laced with synthetic additives and can contain the same amount of sugar as Coca-Cola, the school district voted by 5-2 to outlaw two of Oliver's other betes noires - chicken nuggets and "corn dogs".
The decision represents a sterling achievement for Oliver. Yet helping to stem the rise of early-onset diabetes doesn't endear you to everyone. Not in America.
The ban, which was vigorously lobbied against by the dairy industry, has been furiously described by right-wing commentators as liberal social engineering.
The Drudge Report linked to reports that LA schoolchildren would in future be offered vegetarian and ethnic dishes (and soy milk) under a banner headline declaring: "Let them eat sushi!"
- INDEPENDENT