Save dishes, save time, save money and eat well. Clarissa Dickson Wright shows us how in her new cookbook.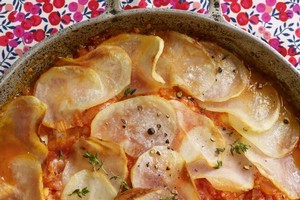 It will come as no surprise to you that the outspoken Clarissa Dickson Wright has no time for celebrity chefs and media show and display. She thinks Jamie has sold out to the supermarkets, Gordon should have stuck to football but does, however, like Nigella. Her views on Rick have not made the record.
While the animal-loving urban Brits have taken her to task for her support of game hunting and country sports, they are also in love with her easy down-to-earth cookery in homely and reassuring cookbooks such as Sunday Roast and Clarissa's Comfort Food. Potty! Clarissa's One Pot Cookbook accurately reflects the zeitgeist of recession-driven food - good, deep flavours, cheap to cook but still imaginative.
Clarissa has thought of every vessel - the bacon and eggs in a tin mug will be a camping favourite - and makes the point that little or no washing-up is a good home economy to adopt. But it is not all student flat dishes.
Some of her puddings are weird but wonderful glimpses into traditional English cookery such as the Sussex pond pudding of suet pudding enveloping a thin-skinned lemon that "bursts" to make a sauce, or the orange cream adapted from a 1615 housewife's guide. A herb tart is adapted from a 1699 book, a potato pie from a 19th century Book of the Cook's Oracle.
This book will create new traditions for your cookery.
Galician fish pie
Serves 4
There was a time in my youth when my mother had a series of Spanish couples who came to work for us and who came from Galicia, which is that area of northwestern Spain above Portugal, famous for its fish.
24 roughly blanched almonds
3 Tbsp olive oil
2 garlic cloves, chopped
4 medium onions, finely chopped
1 bay leaf
6 tomatoes, skinned, deseeded and chopped, or 400g tin chopped tomatoes
Salt and pepper
6 medium potatoes, peeled and very thinly sliced
500g thin fillets of cod
30g butter
1 Pound the almonds in a mortar until they're a rough paste.
2 Heat the olive oil in a saute pan that will go in the oven and slowly cook the garlic, onions and bay leaf for about 15 minutes or until the onions are soft.
3 Add the tomatoes, season and cook for a further 10 minutes. Add the almonds and cook for another 5 to 10 minutes. Remove the bay leaf.
4 Preheat the oven to 200C (400 deg Fahrenheit or gas mark 6). Put the sliced potatoes in a colander, pour some boiling water over them and then refresh under a cold tap.
5 Pour the tomato mixture into a bowl and line the bottom and sides of the saute pan with slices of potato, leaving enough to put on the top. Then fill it with alternating layers of the tomato mixture and the fish fillets, starting with the tomato mix.
6 Cover with the remaining potato, dot with butter and cook in oven for 40 minutes.
* Recipes and images reproduced from Potty! by Clarissa Dickson Wright with permission from Hachette NZ Ltd, published by Hodder and Stoughton, $39.99 RRP.
Be in to win
We have one copy of Potty! by Clarissa Dickson Wright, published by Hodder and Stoughton, $39.99 to give away.
To enter, email your contact details to life@nzherald.co.nz with "Potty!" in the subject line by Thursday June 23.