Hundreds of people wearing headlamps are scouring suburban streets after dark, Danielle Wright finds out why.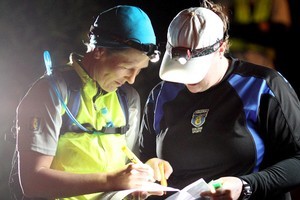 It seems a bit covert. We meet in a dark carpark on the edge of Cox's Bay Park in Westmere and are handed pieces of paper by a man in an old car with a printer set up inside.
Around 100 people are huddled in groups, plotting their route through an orienteering course as part of the Winter Street Series run by the Auckland Orienteering Club.
"Some people want to add something extra to their running, others are interested in learning to read maps and some just want to have fun," says the man in the car, Alistair Stewart, who has been doing these events since the early 80s, after years of cross-country and track running.
Alistair, who is off to the World Masters Orienteering Championships in Hungary next month, explains it all to us: we have one hour to get as many clips on our ticket from the different "controls" we find set up around the streets as we can.
There's the option of aiming for six, 10, 14 or 18 clips depending on fitness levels, and points are given for each.
We opt for six - my excuse is that I'm with my 5-year-old son, who thinks holding a torch and racing through dark streets at bedtime is the most exciting thing that has ever happened.
The maps are basic, with no street names and I'm tempted to check my map position on my phone at first, especially when we've gone past a few streets and I forget if it's the fourth - or maybe it's the third? - street we've passed on the left.
There are a few clues next to the name of the control, such as "XL: postbox, street corner" or "XB: rock cluster" and it's always a good feeling when you see those headlamps shining in the distance so you know you're on the right street.
Mostly we are racing through the back streets but there are times we need to head on to busy roads. Shocked faces freeze in between mouthfuls at Delicious on Richmond Rd as we cross the road en masse with a headlamp-wearing group.
It's a bit like a treasure hunt with a Halloween trick or treat atmosphere: excited people roaming the streets just after dark, friendly to each other because they are here for the same reason.
Normally, roaming the streets at this time you wouldn't talk to anyone you meet.
The Summer Street Series starts in October and the club has other events during the year such as the orienteering carnival held over Queen's Birthday weekend at Woodhill - it's not all through suburban streets.
We head back to the reserve, having clipped six in the time limit. Considering our son tried every rope swing on every tree, stopped for many rest breaks to play with autumn leaves or pinpoint the Sky Tower, as well as wanting to be carried up the steeper hills, it's amazing we didn't come last.
Back at the reserve, Alistair has set up soup on a boiling hob with a pretty light hung in a park tree. People chat and sip from smiley-face mugs - it's charming.
If you want to re-learn the lost art of map reading, get fit without feeling like you are, enjoy a bit of friendly banter or competition, get the adrenalin pumping and explore areas you may not have visited before, or you just want an excuse to get lost in the suburbs without a few glasses of wine first, then there are events like this in neighbourhoods around Auckland all year.
The only complaint came from my son: "A bowl of soup's not really worth it. A bag of lollies would have been better."
All you need to know
Cost: One-hour street series is $4 (adult), $2 (student) or $8 (family) for members and $6 (adult), $3 (student) and $12 (family) for non-members of the Auckland Orienteering Club.
Gear: Stand out from the crowd in colourful Petzl Tikkina2 headlamps from $44.90 or go for top-of-the-range Led Lenser H14 with 4-in-1 functionality for $219 - now on sale.
Events: Membership of the Auckland Orienteering Club is $40 (junior), $65 (senior) and $90 (family) per year. The street series have run for 20 years for beginners and casual runners or try the forest and farm events for more challenging navigation.
* For orienteering events from other clubs, click here.