Herald on Sunday rating: 4.5/5
Address: 23 Ponsonby Road
Ph: (09) 360 6262
Website: moochowchow.co.nz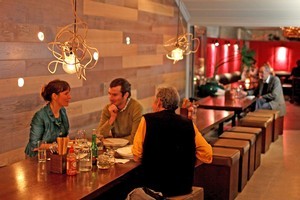 Rocco has found its front door. The entrance to the Edwardian villa on the corner of Hepburn St used to be off the deck, by way of folding doors that were harder to open than a bigot's mind.
Once inside, you were ushered through to the restaurant, passing en route a coat rack that blocked the front door. It didn't seem to dissuade anyone - the place has been packed each of the half dozen times I've eaten there. But I like it more now the front door is a front door.
It is not, however, Rocco's front door. That Mediterranean-influenced place, a reliable institution since forever, has closed, and owner Mark Wallbank has teamed with chef Che Barrington to create this playfully named eatery, which threatens to add some much-needed zing to the lives of Auckland diners.
A friend called it Thai fusion, a description that I don't buy and not just because I think the term "fusion" is a bit of a con (show me a cuisine that isn't seasoned with ideas from elsewhere and I'll show you bad food).
Rather, Barrington brings fine-dining technique to bear on the street-market food of Asia; yes, the emphasis is Thai, but there are whiffs of Malaysian and Chinese as well.
The ideas derive in part from the fabled Longrain in Sydney (where Barrington worked) but, he says, he is also inspired by New York eateries like David Chang's Momofuku Ko (for which online bookings open and close in a millisecond at 10am each day) or the Malaysian-inspired Fatty Crab which has several outlets in Manhattan.
Some unintentionally hilarious online commentary suggests it may all be a bit revolutionary for some.
One post suggested going across the road to the food hall "where you can get Thai [food] that is way more authentic, and actually prepared by Thais"; another lamented the lack of green curry and Pad Thai and sniffed that the five-spice chicken with Szechuan orange sauce is "obviously Chinese".
Barrington will happily plead guilty to all that. There's no green curry because it's the wrong season for the chillies he needs (all his pastes and sauces are made fresh). But what is on offer instead is a striking blend of ideas: traditional recipes, given a twist according to what is available in local conditions, are applied to main ingredients - cuts of meat, for example - that are not normally associated with Asian food.
So beef ribs (which I wish I had tried) are braised and then charcoal-grilled. In place of green papaya - not a big winter crop in these parts - is a salad made from the humble (and vastly underrated) choko, a native of South America: shredded and steamed, it is pounded with chilli and tomato into one of the menu's must-eat dishes.
We had started with one each of the two freshly shucked oysters on the menu: one with lime and chilli, the other with ginger and lemongrass. To say that they put us in the mood is to put it too mildly. But it was a fine foretaste of what was to come.
The slow-cooked massaman goat curry was rich and full-tasting and the fish, in a red curry with lemongrass, had that slightly chewy skin of the streetside charcoal brazier while remaining moist and aromatic.
My sole regret was that I ordered only a small serving of a caramelised pork hock, an oversight that I can only attribute to momentary lapse of reason. It is a matter I will remedy soon, which will give me another opportunity to exult in the enormous ginger-and-lemongrass pannacotta that rounded off the meal.
Snappy but relaxed service - Xabi, the Basque waiter, is the only Rocco original left - makes this the complete package. Go soon, and often.
Need to know
The good: Thai food for grown-ups
The bad: Those lampshades have to go
The special: The teas - including peony and ginseng oolong.