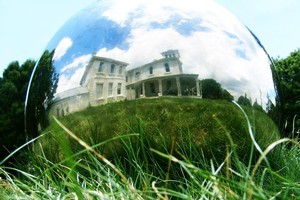 Gather together some of your finest friends and head to the Pah Homestead in Hillsborough next Wednesday night to support women's leadership development with the YWCA and the Wallace Arts Trust. For just $60 a head you'll enjoy a glass of Deutz, canapes, a guided tour of the superb collection of contemporary art and get to hear about the good work the YWCA does for the women of our world. To book ph (09) 375 9242.
On the road
If you're heading to the Coromandel this weekend, make sure you get tickets to the big community dinner being held in Whitianga on Saturday night. Nici Wickes - Viva's eating out editor and TV3's World Kitchen chef - will be in Whitianga to celebrate with Mercury Bay Area School the recent opening of its fabulous new cooking facility and to support the Youth Leadership Programme (YLP) by taking cooking classes for teenagers. It will culminate in a spectacular three-course dinner for the community, cooked by the students. Tickets are $30, with funds going towards the YLP.
For ticket information go online or ph Mercury Bay School (07) 866 5916.
Take note
If you're enjoying the new series The Food Truck showing on TV1 on Sunday nights with chef Michael Van De Elzen of Mt Eden restaurant Molten, then you'll be keen to know he will be launching a cookbook later in the year. The book will focus on recipes inspired by his restaurant and it will be styled and photographed by Viva's own photographer, Babiche Martens.
Food for thought
If you care about what you eat and what the rest of the world is eating, then you won't want to miss hearing eco queen Harriet Lamb - the director of the UK Fairtrade Foundation - speak in Auckland on Tuesday, June 22 at Auckland Girls Grammar. Tickets are free here.
Feel-good factor
Hum Salon is a cafe in the beautiful big old Victorian-Edwardian Villa at 123 Grafton Rd, just by the bridge. Don't be put off by the derelict look and extensive scaffolding, the place is being lovingly restored and you will be rewarded for visiting with excellent Kokako coffee and all proceeds going towards the restoration project. Check them out, ph (09) 374 4388.
Coffee fix
New cafe Escobar Espresso, at 483 Richmond Rd, is a lovely new addition to the West Lynn shops in Grey Lynn. The coffee is a smooth Columbian brew and the berry muffins, gluten free no less, are spectacular. We like that they're open from 6.30am - great to pop in on your brisk early morning walk, don't you think?