Fruit trees can provide bright spots of colour in a winter garden. By Meg Liptrot.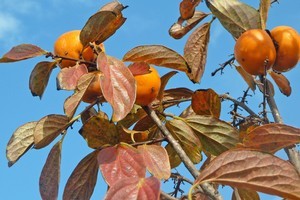 Have you ever noticed the colour of fruit during autumn turns the same brilliant hue as leaves? Not only are persimmon tree leaves an almost fluorescent red-orange, so is the fruit. Rosehips outshine the fading greens of their deciduous framework, and mandarins strike a jewel-like contrast to the viridian leaves of these small productive trees. The autumn edible garden is plentiful and vivid.
Deciduous trees in Auckland offer fleeting beauty as their leaves give a last flush of colour before the grey sets in. They are sometimes chosen by landscape designers for the beauty of their bark, but for me, in my home garden where space is at a premium, we chose deciduous fruit trees over ornamentals for reasons of productivity and getting the most bang for our buck.
The persimmon is a suitable tree for a small edible garden - compact, shapely and very productive. Persimmons are high in vitamin C and "are recommended for a wide range of [ailments] from hypertension to hangovers", according to the Persimmon Industry Council.
Fortunately, the days of biting into an unripe persimmon - similar to that hideous furry feeling you get biting into an unripe banana - are gone. Most garden centres sell the non-astringent Persimmon Diospyros kaki 'Fuyu' which can be eaten while firm, and has a gentle fragrant sweetness. My dogs even enjoy eating persimmon skin.
Persimmons are easy care as far as fruit trees go. They require light, even pruning, as flowering occurs on new season's growth. Some branches can be pruned hard back to promote new growth the following season. Pruning for good form and structure is the way to go, though avoid letting branches get too long as they can get overloaded and break.
The two 'Fuyu' persimmon trees I am happily acquainted with require little attention, just receiving annual mulch in winter. They're both very productive fruiting trees and are self fertile. As with most fruit trees, it is best to keep grass competition at a minimum, by mulching around the imaginary 'drip line'.
These attractive trees are relatively pest free, although pests of the feathered variety can descend when the fruit ripens in May and June. Phytophthora (root rot) can be a problem in poorly drained sites, but despite this the persimmon tree prefers moisture-retentive, heavy loam soil.
The solution for those with clay soils is to plant the tree on a gently sloping, sunny, sheltered spot in ground that has been well forked with a little compost. This is how we planted our persimmon in our food forest at the Sustainable Living Centre in New Lynn (which has the same clay soil that Crown Lynn pottery was made from!). The tree is producing fruit at a relatively young age. The key is to mulch mulch mulch.
Plant Now
After enriching your soil with compost and other organic inputs, plant greens such as cos lettuce, rocket, spinach, silverbeet and lush herbs like coriander and Italian parsley.
Continue planting brassicas such as broccoli, cauliflower, cabbage and bok choy. They appreciate lime or dolomite dug in first to sweeten the soil. From the onion family, plant leeks, onions and garlic. Sow peas and broad beans from the legume family.
Start planning for your deciduous fruit trees. Bare rooted heritage fruit trees can be ordered from specialist nurseries and garden centres.
Ornamentals: Plant the divinely scented daphne to fill your winter garden with a gorgeous lemony fragrance. They prefer dappled light, well drained but moisture retentive soil and compost.