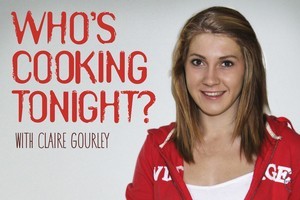 Claire Gourley, the author of Who's Cooking Tonight? and the daughter of food writer Glenda Gourley, puts it in teenage terms: "I love food but I'm always busy with friends, school and sport and don't have much time to spend cooking. But that doesn't mean I want to settle for average food - not at all! I want to eat great-tasting food that is good for me."
Gourley's recipes "veer toward the healthy" as she puts it, but they are meals like Tuscan Chips with Guacamole and Butter Chicken with the trimmings.
"I want to look good, have clear skin, shiny hair, be at a healthy weight and have lots of energy. I choose foods that my body will like so I'm looking after myself from the inside out," says Gourley.
Most teenagers will do food technology at school. The head of food technology at Western Springs College, Maria Moylan agrees that cooking with your kids is extremely important for them, because it is an essential life skill.
"At Western Springs, we teach our junior pupils the importance of nutrition, how to budget in regard to food, understanding food labels and terminology and key cooking techniques, from using electrical appliances to cooking methods such as poaching and steaming," she says.
"They learn about international foods and adapting recipes to suit individual needs, such as allergies or specific diets."
Senior students focus more on catering and the development aspect of food.
"What I would like each teenager to understand is that food is more than just energy for our bodies. It controls our moods, personality, physical appearance, motivation, alertness, and our well-being," says Moylan.
"We should treat our body well by having the knowledge and skills to prepare nutritious food so we can get the very best from our bodies every day, and this should happen from a young age as bad habits picked up early in life are hard to shake," she says.
Tips on getting teens interested in cooking
* Give them a financial incentive - encourage them to cook for fund raising.
* Teach them that eating well will give them the bodies and looks they want.
* Encourage them to cook a night or two a week so they can be an asset when they go flatting.
* Encourage them to invite friends for dinner and to cook for them to make it fun.