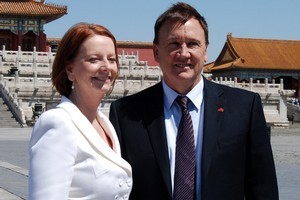 Julia Gillard and Australia's first bloke are not getting married anytime soon, as there's already been one big wedding this year.
But if the couple does get engaged, it will be him doing the asking.
While everyone knows Gillard has a bloke, a year into becoming prime minister very little is known about Tim Mathieson, her hairdresser partner from Shepparton, Victoria.
The couple met in a salon in the Melbourne suburb of Fitzroy in 2006.
Mathieson said at the time he had no idea what Gillard did for a living.
"It was the first time I saw her. I thought, what a wonderful lady," he told 60 Minutes.
Chatting led to their first date.
Just in case it was an awkward first date, both had exit strategies.
One of Mathieson's mates phoned to tell him someone was interested in looking at a Mercedes that was up for sale, while one of Gillard's friends advised of a work-related emergency.
"Of course it was both set up in case we needed quick exits," Mathieson said.
A sneak peek at the official prime minister's residence in Canberra, The Lodge, revealed Mathieson's special hide-out - a shed at the back of the home.
For Gillard, the shed is a no-go zone.
"No girls allowed," she laughed, adding later, "I'm hanging on the outside of the shed, as instructed".
As patron of the Australian Men's Shed Association, a federal plan to deal with men's health, Gillard says her partner has "gone and looked at things and talked to people on the ground".
"He will bring back insights that I haven't picked up as I move around," she said.
"Particularly in the area of men's health, especially in regional Australia. He's done extraordinary things."
Inside the shed, Mathieson told 60 Minutes reporter Charles Wooley it was a common sanctuary for Australian men to discuss personal issues.
"We don't talk about our health at the pub. We don't talk about our health enough with GPs," he said.
"So in a shed, we just open up."
On dealing with day-to-day banter in parliament, Gillard described herself as "a fairly calm person".
"I don't mind doing it day after day. It doesn't worry me, and you have a bit of fun from time to time," she said.
In April Gillard and Mathieson were among the few Australian guests invited to attend the royal wedding in London.
"The whole royal wedding was like a cross between a huge state occasion and kind of a nice, family wedding," Gillard said.
Asked the obvious question, if she and Mathieson were likely to get married, Gillard laughed and rolled her eyes.
Mathieson said it wasn't likely to be anytime soon.
"One wedding I think is enough for this year," he said.
He agreed if they were to get engaged, it would be him popping the question.
"That's true, absolutely," he said.
- AAP