Address: 356 Karangahape Road
Phone: (09) 358-3886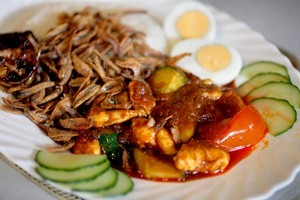 I'm sure there's a word for it - that feeling you get when you have ordered your meal, you're sitting back anticipating the experience of things new, and then the waiter carries a plate past your table and you think, "Hmmmm - maybe I should have ..."
Plate envy? Food dis-order?
At Sri Pinang it doesn't really matter. At their prices, you know you can afford to come back.
Finding the restaurant is a bit of a trick. It's not very large, and the spelling is misleading. Why would you call the place Sri Pinang when the menu features a drawing of the island, correctly labelled Penang? Too much bother to change the signage outside? Or maybe it's a local language thing.
It's worth the effort though. Three of us managed to secure a table without a booking, although we had to wait a few minutes. K Rd is an interesting place for people-watching though, so it was time well spent.
Once settled in, and after a canter across the road to buy beer and wine, we took a look at the menu.
Sam was very taken with the sound of spicy vegie dodols, because none of us knew what on earth they were. That, and a mixed platter, started us off nicely. The dodols turned out to be little lumps of glutinous rice, palm sugar and unidentified vegetables wrapped in banana leaves, a strange mix but tasty enough. The platter was more than just a collection of starter choices - spicy and tender squid rings, strips of well-flavoured barbecue pork, wontons that were rather more wrapper than filling, great prawn crackers and a selection of dipping sauces.
On to the mains - beef rendang for Bill, nasi lemak for me, and devilled chicken curry for Sam, with sides of rice and roti. Last things first - the roti was the best any of us had ever eaten, flaky, light and buttery without being greasy. The rendang was tender and plentiful, with a residual taste of coconut milk it was cooked in. The cook who plated the nasi lemak was liberal with the dried anchovies (ikan bilis) to my delight, and not unstinting either with the chicken and prawns. Delicious. Sam's devilled chicken curry was well-balanced, very spicy without being overpoweringly hot, and with a hint of tamarind in the sauce.
The meals are generous at Sri Pinang. When our plates first arrived we thought, "Oh good, that's lunch tomorrow sorted." But it was impossible to stop eating once we started, with the result that there was little sign of leftovers or room for dessert.
The food is everything at Sri Pinang. The restaurant itself has little in the way of décor, although it is spotlessly clean, and the seating is comfortable enough.
But owner and front of house manager Angie Siew knows what her patrons want, and she delivers. Sri Pinang redefines cheap and cheerful. Long may it continue to do so.
Rating out of 10

Food: 8
Service: 8
Value: 9
Ambience: 7

Our meal: $89.50 for a shared platter plus one starter, three mains, two bowls of rice, one roti and corkage.
Wine list: There isn't one - it's BYO wine and beer.
Verdict: Sri Pinang has been around for 20-odd years and remains as popular and reliable as ever. So popular, in fact, that it really does pay to book, if you want pretty authentic Malaysian food at sensible prices.